Philips AAA battery handset
Always have enough juice to talk
Philips has created a handset that stops dead your excuse of "I couldn't call because my phone's battery died," because its latest mobile phone accepts AAA batteries.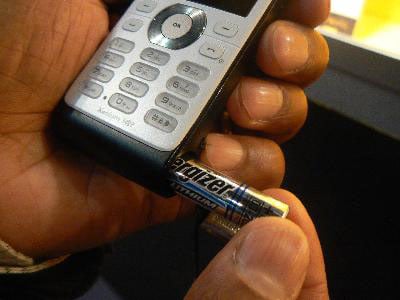 Philips' 9@9j has two power sources. Image from BlogoWogo
Dubbed with the curious name of 9@9j, the candybar handset has a standard lithium-ion battery inside and, should it run out of life, then the AAA battery, which slides into a slot at the bottom of the phone, kicks in to give the handset's lithium-ion battery a little more juice.
The phone, which Philips paraded at Mobile World Congress in Barcelona, was developed in conjunction with Israel-based battery specialist Techtium. It calls the 9@9j's dual battery design Backupower and a company spokesman has told several online sources that the AAA battery will give the lithium-ion battery an additional three hours of talk time.
Philips' 9@9j handset forms part of its Xenium handset trio, which are sold on their battery life credentials. For example, in 2005 the existing Xenium 9@9C clamshell handset made it into the Malaysian Book of Records for its ability to provide over eight hours of continuous talk time and 14 days in standby.
A release date or price for the Philips 9@9j hasn't been given.
COMMENTS
@JC
Taking a spare battery pack involves buying a spare battery pack - often quite expensive - that you may never need. You'll have to carry it everywhere, and make sure you keep swapping it over and charging it, because they can self-discharge in a matter of weeks.
An AAA holder will always be handy, as long as you're somewhere near a shop, or even near something that you can pinch the battery out of (a remote control, for example).
Umm? This is a problem?
Once upon a time ago I accidentally realized cellphones have removable battery packs. Ok, it was a long time ago but anyway, why not just take a spare battery pack with you instead of AAA cells?
I realize it means on the road you can't buy the spare pack so easily but then it makes more sense to adopt a universal battery pack standard for cellphones instead of sticking with proprietary and then adding bulk to house a AAA cell too.
About damn time!
I've been working on a AA-battery module for my old Motorola for months! The batteries fit in the space under the extended-battery caseback, but their 2.4v output doesn't meet with the phone's 3.6v expectation, so I'm trying to build a small boost converter. Except I'm not very good at it, nor am I very diligent.
Ham radios have come with AA-battery auxiliary cases for years, because we all know you don't always have a charger handy. It's almost criminally stupid that cellphones, which the majority of the population now rely on for emergency calls while traveling, don't offer a similar option. Well, I guess they do now!