Alienware confirms existence of Area-51 m15x laptop
Landing date unknown
Alienware has given birth to its latest hardcore laptop, which it claims packs enough capability to ensure it meets the requirements of just about every possible user.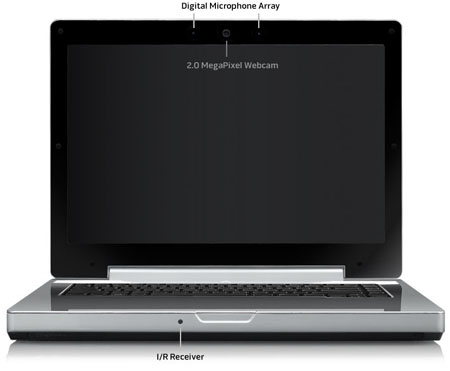 Alienware's Area-51 m15x laptop
The Area-51 m15x has a 15.4in display, with 1920 x 1200 resolution, and incorporates an Intel Core 2 Extreme X9000 CPU, with 6MB of shared L2 cache and an 800MHz front side bus. So, according to Alienware, the laptop "establishes a new performance standard" and will get backwards glances from the likes of hardcore gamers, 3D content creators, students and professionals on the go.

The m15x's left and right sides
Nvidia's GeForce 8800M GTX GPU is built into the Area-51 m15x's shell, in addition to a hot-swappable optical drive, with 2x Blu-ray reading capability, and a primary hard drive of up 320GB with 5400RPM or a 64GB solid state drive. An optional removable second hard drive and backup battery is also, well, optional.
Users get three USB 2.0 ports and a 7-in-1 media card reader, which includes SD cards, on the 330 x 369 x 272mm machine. Bluetooth 2.0 is on-board and the laptop's Wi-Fi connectivity works across the b/g/n bands. A two-megapixel webcam is built into the inner of the laptop's lid.
Alienware's Area-51 m15x laptop will cost £1545 (€2100/$3000) and is available online now.
COMMENTS
Shame it's so ugly
Great spec, but it really is pretty hideous!!!
And for such a spec that suggests a gaming laptop i dread to think of the price of adding the SSD drive as a primary and then a large second drive for storing the massive games on.... and the extra weight - yikes!!!!!
Re: Gimme!
Puppy's what?
*retreats back into lair*
Gimme!
Where can I get me one of these puppy's?