Missing: 80GB PS3. Last seen: Sony's website
A 120GB or 160GB PS3 en-route?
The absence of the 80GB PlayStation 3 from Sony's US website is re-igniting rumours that the electronics giant could be about to replace the model with a larger capacity offering.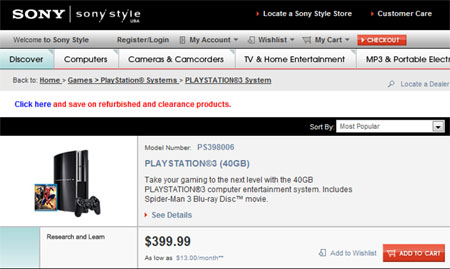 Both Sony US and UK websites offer just the 40GB PS3
Eagle-eyed customers have noticed that Sony's US website, along with its UK alternative, only offer the 40GB PS3 to gamers, which is currently priced at £300(€345/$600) over here. Although absence of the 80GB model on the US site is not hard evidence of a replacement, its disappearance is nothing less than strange. Has Sony sold out? Is there a glitch in the US website's HTML?
Several online reports have already begun drawing parallels between the 80GB model's disappearance in the US and recent rumours that Sony has etched plans to replace it with either a 120GB or 160GB alternative. Any new capacity model is also thought to include the DualShock 3 controller, which features a dual-rumble facility.
Sony Computer Entertainment Europe has already denied that any such changes will be taking place in the UK. A SCEE spokeswoman told Register Hardware last month that it "has no plans to bring either a 120GB or a 160GB PS3 into the UK". Although, technically, that doesn't rule out a possible US unveiling of a larger capacity PS3.
It's also been suggested that gamers may be treated to the anticipated PS3 TV tuner, dubbed PlayTV, alongside any unveiling of a 120GB or 160GB capacity console. Sony has previously confirmed that PlayTV, which contains two tuners to allow the PS3 to operate as a full digital video recorder, is scheduled for an early 2008 launch.
Sponsored: Minds Mastering Machines - Call for papers now open