Mio DigiWalker C620T
All-terrain armoured transport
Beyond the obvious benefits of representing complex road systems more clearly, we also found that the 3D representation seemed to require less driver attention than a 2D one. Presumably this is due to the fact that you are looking at a fairly literal graphic representation of what is beyond the windscreen rather than having to mentally translate a 2D image into 3D and then superimpose it on the real world.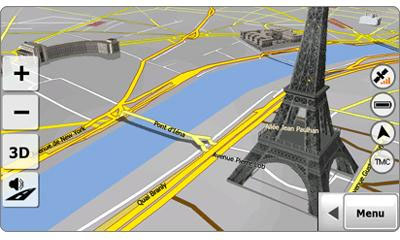 Hang a left at the Awful Tower
The 3D effects are helped by the Mio delivering very smooth animation which renders even the most aggressive and sudden change in direction as a clean and gradual flow on the screen. The C620 is also graced with a highly effective zoom function which allows you get up close and personal with the road network. This can be especially useful when navigating dense urban areas when being able to see road names clearly on the screen is all important. A simple click of a button allows you switch between 3D, 2D and a road atlas view.
When you approach a major point of interest - and Mio are taking major, so think the Houses of Parliament, Stonehenge, The Register's fortress bunker and the like - a great big 3D image of said pile appears on the map. Strangely enough, the Trafford Centre, that most vulgar monument to the British obsession with shopping, appears only as an enormous black void, suggesting the Mio can cope with spiritual and well as physical geography.
This time, this representation of buildings really is just a gimmick. The images are way out of scale, while some of the 3D renderings are a little... well, let's just say 'fanciful' and leave it at that.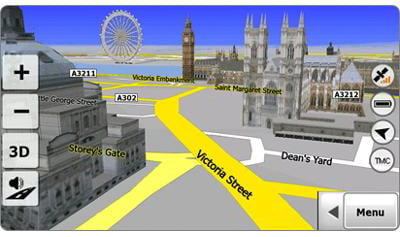 Look kids, Big Ben, Houses of Parliament
The C620's voice commands are succinct, clear and not overly intrusive, and never once left us wondering what it wanted us to do. The screen can be set to show the current speed limit while the voice prompt can be set to tell you once, but only once, if you are exceeding said restriction. The UK's shambolic road infrastructure and high levels of congestion ensure the TMC traffic warning system - free if you live in most European countries, but an extra cost option in the UK, France and Italy - earns its keep. The speed camera warnings keep your hard-earned in your pocket and out of PC Plod's.
Sponsored: Minds Mastering Machines - Call for papers now open