Griffin Evolve wireless iPod speakers
Sound investment
Rather than muck about with complicated clips or plugs, the speakers dock with the base station through three discrete contact points on the bottom of each speaker. It's a great idea, but we'd advise users to make sure the speakers are docked properly when putting them back as we found occasionally contact wasn't made.
Given that each speaker is packing an internal lithium-ion battery that provides around ten hours of operation, and an RF receiver capable of getting a clear signal at over 40m away, they are surprisingly light, making it easy to carry them around.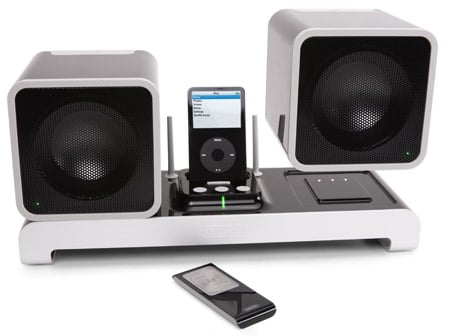 The speakers are surprisingly light
The range is impressive, and for once it seems that the boasts made on the specification sheet aren't hyperbole. While there was occasionally some distortion while moving the speakers around at range, once you put them down the sound quickly resolved into as clear a signal as you get when they're docked.
If you're a hardened audiophile then stop reading now and start looking elsewhere. Although the frequency range and clarity of the speakers are quite good, they lack of any sort of sub-woofer or tweeters, and that means that the Evolve's 12W speakers battle when listening to tracks that have a thumping bass or high-pitch sounds, particularly when the sound is turned down low. That said, for general listening, the sound quality certainly isn't bad, particularly if you enjoy music along the lines of jazz and rock.
As you might expect, the range is hampered by obstructions, but 40m is a fair distance, so unless you're trying to reach the other side of your estate through several medieval castle walls, you shouldn't have too much problem.
Fortunately, Griffin smartly used radio transmission for the remote, rather than the more traditional infrared, meaning that you can control the unit from the same distance as the speakers. Still, we challenge anyone not to point the remote in the direction of the speakers when using it.
Sponsored: Minds Mastering Machines - Call for papers now open