'I live the mobile lifestyle dream...'
Whalesong from Barcelona – in pictures
Mobile World Congress With thousands of vendors plugging away at the Mobile World Congress, it's clear how difficult it is to find catchy marketing slogans. The barrel has been well and truly scraped. So what to do?
Easy, peasy: just create one that makes no sense at all.
55,000 people walked past this one from LG at the gates of the Fira this week. Did anyone think it was not completely redundant?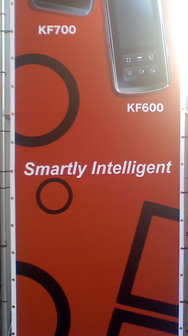 Or intelligently smart?
This one promised to turn Hall 8 into a vomitorium. Just throw all the cliches you can into a faux dictionary definition, collect clip-art... and go: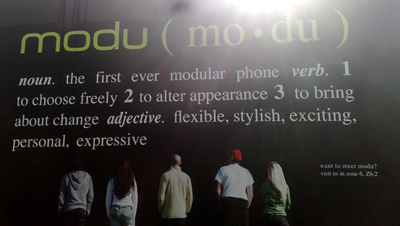 Modu's singing whalesong dictionary
After that, it's almost a relief to see a good honest debugging error message: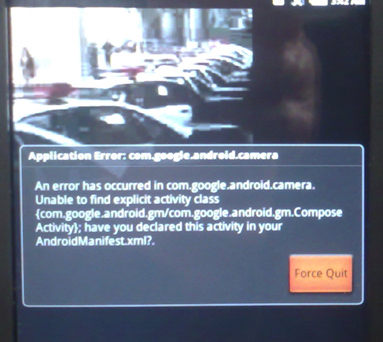 (If Android was just another Java-on-Linux mobile OS made by Hwuang Industrial Components of Beijing, would anyone have noticed? Impressively, though, the video in the background kept playing.)
Back to the whalesong. What possessed Gigafone to make this creepy sentiment part of its marketing message?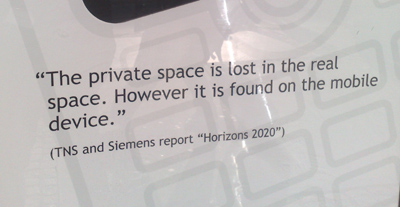 You're never alone with your phone - we'll make sure of that
It's as if they want to remind us that they're an intrustive mobile advertising company. We hear you.
And finally, speaking of creepware, my report on Yahoo!'s new stalker service cropped up in the oddest place.

More mobile marketing guff welcome, below. ®
Sponsored: Minds Mastering Machines - Call for papers now open