Nokia 7900 Prism
Style over substance
Supplied applications include the Opera Mini web browser, four games and a four-city world clock. You also get a rather nice suede (ish) pouch to keep everything looking new and scratch free.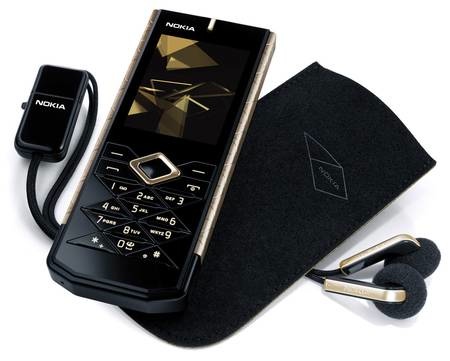 With all the gubbins
The supplied phones are rather dated with their foam covers, but replacing them will involve buying an adaptor for the 7900's mini USB port. The supplied set sound OK, though, while the on-board music player pumps out a more-than-decent sound and comes with a comprehensive equaliser. Our test handset came pre-loaded with a selection of tracks from the Kings of Leon, Razorlight, the Killers and the Klaxons.
The 7900 is available with either a black or "sand gold" aluminium back panel. For those who think the bog standard model is just not elegant enough, a Special Edition Crystal Prism is also available with a gem-like navigation key plus purple back panel, wallpapers and print bandanna all designed by French artist Frédérique Daubal.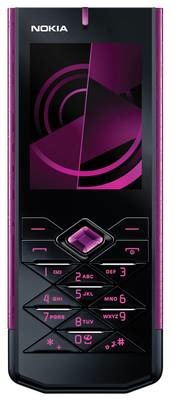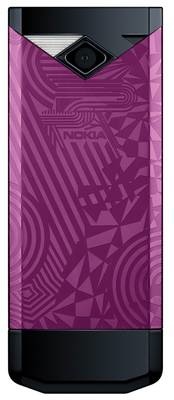 Frédérique's purple Prism
Don't worry, we'd never heard of her, either. But since it's not entirely clearly how you go about availing yourself of the Special Edition, perhaps that's not great loss.
Unlocked and SIM-free the 7900 is a going to set you back the best part of £300 in the UK, which is more than twice the price of the 7500 and a lot to ask for a phone of this spec. We suspect this will not be an issue as most will be purchased with airtime contracts and probably come for free, but still that is a lot of folding for a flash screen, a metal backplate and 3G.
Verdict
Nokia's Prism 7900 is all about the screen and the styling. Take the OLED panel and design highlights out of the equation and you may as well save a chunk of cash and buy a black 7500 that looks broadly the same. But the 7900 is certainly nice to look at, and the lighting effects, we'd say, flash enough to help you pick up people in fashionable bars.

Nokia 7900 Prism
If style is your overriding concern, you won't go far wrong with the 7900. But the price is high and the specification is low
Price:
Contract: from free; pre-pay: N/A; handset only: £294 RRP