Nokia 7900 Prism
Style over substance
On the front of the handset, the triangular scoring effects are not quite so comprehensively executed as they are on the 7500. They're confined to the keypad itself and aluminium back panel but not the keypad surround. The 7900 looks all the better for this and has the added benefit that the call start/end and soft-menu keys are in a more usual place than they are on the 7500.
The exterior of the 7900 has been pretty ruthlessly shorn of all buttons and ports, the exception being the mini USB port at the top that takes either the charger, the supplied USB cable or the headphones. This means no exterior camera activation button or lanyard eye.

Only one port to disturb the 7900's exterior
While fiddling about with the handset we noticed that the battery is impossible to remove without the use of a knife or blade of some description. Its the runner grooves for that aluminium back panel that seem to be responsible, making the battery sit absolutely flush with the surround all the way around. Thankfully, the SIM slides in and out easily enough.
A slight problem with the back panel also forming the sides of the handset is that when pulling the USB cable out the pack panel can slide down, or rather the phone slides 'out' of the panel which is what you are holding the handset by. Just as well the battery is so hard to remove then...
Get past all the 'design' and the 7900 is actually a reasonable enough handset. The aluminium back panel gives the handset a cool and solid feel in the hand while the keypad, though utterly flat and made up of rather weirdly shaped keys, is straightforward to use, making typing errors surprisingly rare. The fifth-edition S40 user interfactes is the usual model of clarity and logic, while sound and signal quality are all tip-top. Battery life is nothing to write home about, though. Nokia says, two hours and 50 minutes of talk time, rising to 240 hours on stand-by. We say, two days of medium use in a 3G area.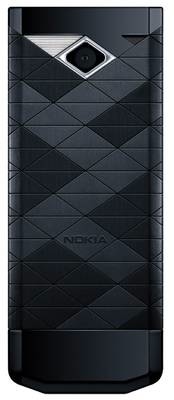 Diamond life
The two-megapixel camera with LED 'flash' is common to both Prism handsets, with video recording restricted to a maximum of 176 x 144. While it may be acceptable on the lower rent 7500, we can't help but feel that the 7900 should have been graced with something more up-market.