HDMI add-on adds HDMI to HDMI-less Xbox 360s
Unless your Xbox 360 is an Elite model, then your console won't have an HDMI point for a direct digital connection to an HD TV. However, now you can odd one yourself. Manufacturer MadCatz has launched an HDMI conversion kit for the console.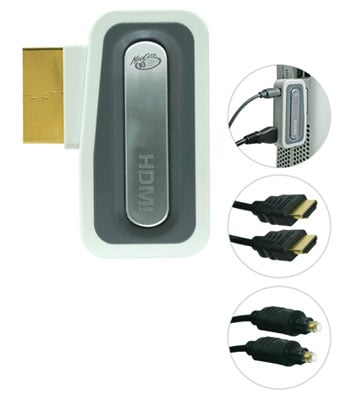 MadCatz's Xbox 360 HDMI Conversion Kit
The dongle connects into the console's AV port and converts the signal to a digital HDMI stream, at a resolution of up to 1080p. The adaptor supports the HDMI 1.3 standard.
MadCatz's Conversion Kit is able to transmit full multi-channel digital audio through an HDMI cable, which the company said eliminates the need for multiple video and audio connections. However, if you'd rather pump the pounding bass of, say, Halo 3 gunfire through your stereo, then the Conversion Kit also has a digital audio output included for such requirements.
The HDMI Conversion Kit is available in the US now for around $90 (£45/€65). Alas, its main supplier won't ship overseas, and for now a European release date or price hasn't been given.
COMMENTS
@ Tristan
The article is hald right - the Elite was the first xbox to ship with a HDMI socket but since then they're revised the standard range and that too includes a HDMI (like yours).
360 HDMI???
I have a new "Non Elite" 20gb XBox 360 which does in fact have an HDMI socket just above the Network socket in the back.