Guinness launches videogame record book
Not a lot of people know that...
If you think eight hours a day sat in front of a computer screen is tough, try staring at a game of Space Invaders for over 38 hours. That's just one of the historical gaming nuggets revealed in an edition of the Guinness World Records that's devoted entirely to videogames.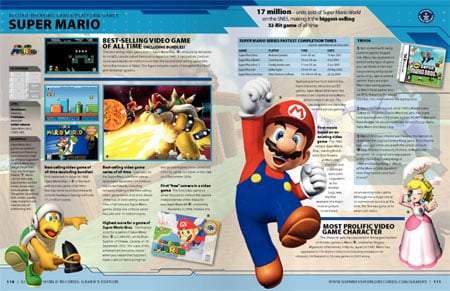 Guinness World Records Gamer's Edition dedicates two pages to Super Mario facts
Dubbed Gamer's Edition, the book is a sort of who's who of gaming accomplishments.
While one gamer may have played Space Invaders for over 38 hours, that doesn't mean he holds the highest score. That award goes to one Donald Hayes, who achieved a score of 55,160 points in 2003.
The book also reveals that the Super Mario franchise is the best-selling game series in history, with 145m units sold globally. If you don't care how many Xbox 360 consoles Microsoft has sold so far, you may be more interested to know that 466m Xbox Achievements had been won by November 2007, which makes a combined global score of 11bn.
But if you've ever felt guilty for eating a whole pizza during a marathon Halo 3 session then don't, because staff at the game's developer Bungie ate around 20,000 pounds of pizza during the 36 months it took them to create it.
Other curious facts of gaming history include the revelation that gaming legend Sonic the Hedgehog was originally called Mr Needlemouse, while Lara Croft's ample bust is apparently the result of a programmer's 'error' with percentages.
Guinness World Records Gamer's Edition is available in the UK from all reputable booksellers for £15 (€20/$30).
Sponsored: Minds Mastering Machines - Call for papers now open