Panasonic says when it will ship 32GB SDHC
But SanDisk in on the case too
Anyone with a hunger for shed-loads of memory card capacity will soon be satisfied, because Panasonic's announced that its 32GB SDHC card will be available to buy worldwide in April.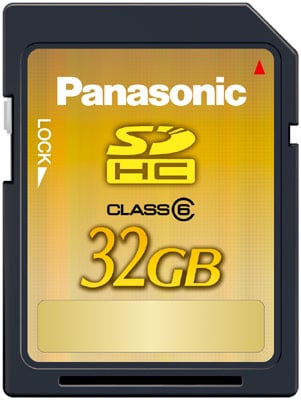 Panasonic's 32GB SDHC memory card
The card, a prototype of which was shown off by Panasonic at last month's CES show in Las Vegas, carries a Class 6 speed classification, allowing it to transfer data at a sustained rate of at least 6MB/s.
Panasonic claims the card, which is officially called RP-SDV32GU1K, is ideal for AVCHD video recording and will be able to store roughly 12 hours of 1440 x 1080i HD video content.
But it's expected to retail at a pricey $700 (£350/€400).
SanDisk has also developed a 32GB SDHC memory card, which is also expected to find its way onto shelves in April, but for a more pocket-friendly $350 (£176/€235).
COMMENTS
Mark, the Cowon D2 just about meets your wish list
The only criterion it lacks is the interface of an iPod...but its touch screen anticipated the latest iPods.
Now all I want..
Is someone to make a MP3/WMA/FLAC player that:
Takes one of these as it's storage format, so it's fully upgradable.
Has the interface of a iTouch
Has the sound quality of a Walkman
Has the build quality of a Zen
Come on, all the portable audio players on the market suck badly, with not one single device being good in all areas. I might be tempted to buy a Itouch, if it's build quality was better, and it didn't sound shit.