Novatel Wireless Ovation MC950D USB HSUPA modem
Mobile broadband in stick form
Installing the drivers is straightforward, and we were up and running in moments, connecting initially to Vodafone's 3G network. There's a single, small panel on the face of the Ovation that lights up in different colours to tell you what technology you're able to connect with - green for GPRS, yellow for HSDPA, mid-blue for HSUPA and so on. It's a nice idea, but the colour-blind might have a job separating one colour from another, and the rest of may not fare much better because some of the colours are quite similar. All HSDPA links are yellow, so there's no simple way to see from the modem whether you're connecting at 1.8Mb/s, 3.6Mb/s or 7.2Mb/s.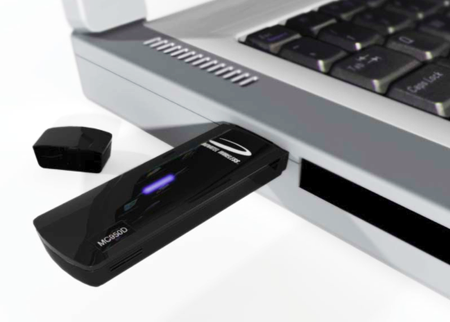 Ready for the ExpressCard-less
The Ovation takes a few moments to run through the list of the available network connection technologies. We did a quick and dirty test: we timed how long it took to get connected from the moment we plugged the unit into an Eee PC's USB port. To be connected to the Vodafone HSDPA network took about 26 seconds. Compare that to the 48 seconds it took with Vodafone's own USB Modem 7.2 - reviewed here. We also tried the Ovation on T-Mobile's network. Connection from scratch took 33s.
Novatel Wireless' drivers tie into Mac OS X's own Networks preferences pane and Internet Connect utility, so there's no readout of download bandwidth. The Mobilink Lite software for Windows does, and more besides, including data transfer counters and a utility for sending and receiving text messages.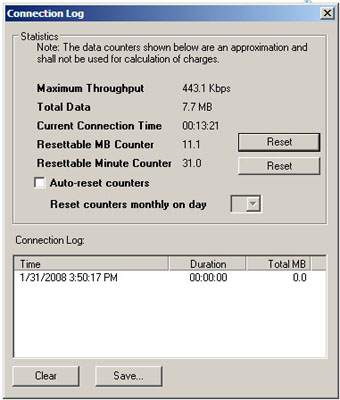 The MC950D's software is basic but usable
Vodafone's HSDPA network is supposed to be running at 7.2Mb/s in certain areas, including around Vulture Central's London eyrie. The Ovation certainly indicated we were in an HSDPA zone, but we were unable to measure a download speed anywhere near 7.2Mb/s.
Sponsored: Minds Mastering Machines - Call for papers now open