HTC Advantage gets a facelift
New and improved
Mobile World Congress Handset manufacturer HTC has redesigned its existing Advantage device, upping the storage capacity to 16GB, overhauling the keyboard's responsiveness - it claimed - and updating the UMPC's software.
The Advantage's detachable keyboard now offers haptic feedback that, much like a similar feature on the recently updated U600, vibrates when users touch it.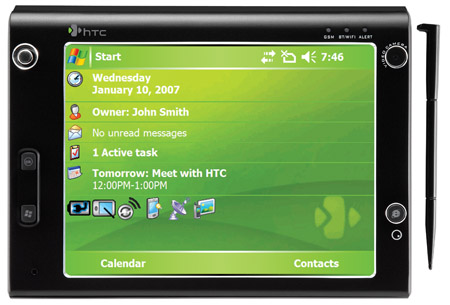 HTC's Advantage: now with a larger memory
Internally, HTC has built in a customisable home screen to allow for one-touch access to all of a modern handset's vital functions, such as emails, text messages, missed calls and the major city's weather conditions.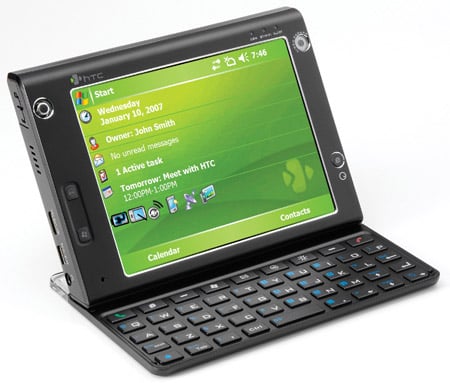 The Advantage's keys now vibrate when touched
You'll also be able to browse around web pages, documents, messages and contact lists with greater fingertip ease, because a TouchFlo function has been added to the Advantage.
In terms of connectivity, not much has changed on the Advantage. Users still get a quad-band GSM/GPRS/Edge handset, with 802.11 b/g Wi-Fi connectivity and a 5in display. Bluetooth 2.0 is on-board and you'll be able to listen to music stored on the device's mini SD card through its 3.5mm headphone jack.
HTC's updated Advantage - sometimes referred to as the X7510 - will be available in selected European countries next month, which hopefully includes the UK. An updated price however, hasn't been given yet.
Mobile World Congress 2008 Complete Coverage here
COMMENTS
don't pre-judge this gadget.
You're missing the point - it doesn't have to run Windows, it just lets you do work on the move. Whether you would want to use it as a phone is a different matter. For me, it always was a great PDA, not a very useful phone unless you used it as a landline substitute.
I have had problems with reliability though - a lot of rebooting was always necessary.
Re: Not an UMPC
And the resolution (640x480) sucks, but that's a limitation of windows mobile, not the hardware. More proof that it's not a UMPC. Although you don't have to run windows to be a UMPC.
Not an UMPC
This is a large PDA, it's not an UMPC.
It isn't a PC compatible and can't run desktop Windows.