We found that getting this right took a little practice - tasks like setting the output level of the source, for example - but performance was good enough to warrant the feature's inclusion. The digitisation rate can be set to 192Kb/s, 128Kb/s or 64Kb/s.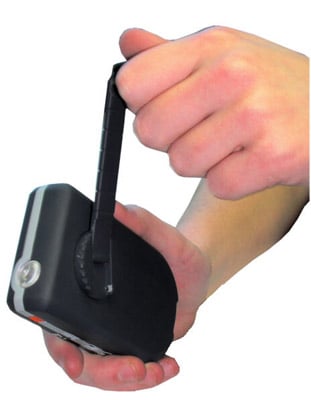 There is also a handy little torch mounted on the front of the player
There are a few issues. The electrical output from some turntables may not be compatible with the player, in which case you have to get all clever by bringing a pre-amp into play, but the function is still worth having.
The player also comes with a really good standard of accessories. The USB cable has a really neat 'reel' which automatically retracts any spare cable during connection to a computer so there's no spaghetti to get tangled up in.
As the unit can also be used as a phone charger, there are also a range of converters bundled to make the machine compatible with most phones. There's even a handy little torch mounted on the front of the player.
Verdict
From a technical point of view this machine is a considerable achievement and marks another milestone in the development of kinetically powered products. Of course it will appeal strongly to those with green issues high on their agenda, so little Jeremy or Jilly may finally get that player they has been craving instead of another jumper knitted out of bee spit this Christmas. However, it would be a shame if the player's appeal was limited to just this market.

Baylis Eco EP-MX71 hand-cranked media player
Its feature set, functionality and independent power abilities make it worth real consideration...
COMMENTS
All this to reinvent a 18th century device?
http://en.wikipedia.org/wiki/Music_box
Line out?
Turntable with a line-out? Do they have that these days? They certainly didn't in the old days when people bought records. They either had a moving magnet or moving coil cartridge which requires a phono amp to bring it up to line-out levels. That's what my Rega Planar 3 has - a MC cartridge that requires a phono preamp (which I built myself). If you buying a turntable with line-out (not likely to be a decent turntable) then why not buy a USB one?!
What about your CO2?
You'll be expelling more CO2 due to the required exertion to charge it up. How does that compare to a power plant? What if your power comes from hydro or wind? Then you would spewing more CO2 doing it yourself.
@Chris Morrison
Look up the term Peak Oil sometime, maybe you'd think again?
Oil production isn't accelerating fast enough to meet demand, so the price of oil will skyrocket.
external speaker
Windup radio /mp3 player with torch = camping. Why then is there not an external speaker?
Lack of linux video software disappointing. At least you dont need a restrictive application like iTunes to add music. My ipod is on its way out and I am not getting another!