Thigh-drive phone charger put through its paces
Let your legs help your fingers do the walking
North American boffins have produced a knee brace which can generate several watts of power as the wearer's leg flexes while walking. The inventors believe the device could be useful for powering medical equipment - and even mobile phones.
In a paper for the boffinry journal Science, the researchers reveal their device's test results. The knee generator works on the same principle as the regenerative brakes used in battery-driven cars. It can clutch in and out, so creating resistance only during selected periods of the leg's motion.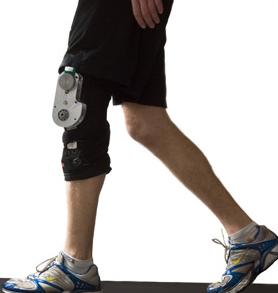 Still not enough power to get this treadmill moving.
If the gizmo engages itself only during the "braking" period, when the knee is bending to absorb the body's weight after a footfall - thus actually helping the leg somewhat with its task - it puts out an average of 5W when fitted to a man walking slowly.
This isn't enough for most applications, of course - it can't power lights, vehicles or heating. But it compares well with the output levels offered by portable batteries. The knee brace could power ten mobile phones, or charge them up. And unlike ordinary hand-cranked or pedal generators, it doesn't require any attention from the operator - though he or she does have to keep walking.
According to biomedics and engineering prof Arthur Kuo of the University of Michigan, one of the inventors, the leg generator doesn't require a significant level of effort from the user - though it's still too cumbersome.
"We've demonstrated proof of concept," Kuo said.
"The prototype device is bulky and heavy, and it does affect the wearer just to carry. But the energy generation part itself has very little effect on the wearer, whether it is turned on or not. We hope to improve the device so that it is easier to carry, and to retain the energy-harvesting capabilities."
Kuo sees systems of this sort being used by soldiers, to charge the increasing load of electronics they carry. The idea could also power implanted medical gear like pacemakers or neurotransmitters.
One likely consumer app might be for hikers or other outdoorsy types wishing to keep their gadgets charged up. (Trade names: Walkman, ThighPod, You'll-never-walk-alone-Phone. Etc.) But it's hard to imagine regenerative knee braces being a big hit among those with frequent access to grid power. ®
Sponsored: Minds Mastering Machines - Call for papers now open