Japanese gamers no longer delighted by DS Lite?
Smash Bros release lifts Wii
Has Nintendo's hugely popular DS Lite had its day? Maybe in Japan, at least, where last week sales of the handheld games console fell below those notched up by its nearest rivals, Nintendo's Wii and Sony's PSP.
For the week to 2 February, DS sales totalled 67,472 units - a new low in the post-Christmas slump that's hit all the current consoles but the DS, Wii and PSP in particular. PSP sales have slipped through January too, but until last week, when Sony saw sales of 72,528 units, they've never surpassed the DS.
Japanese Console Sales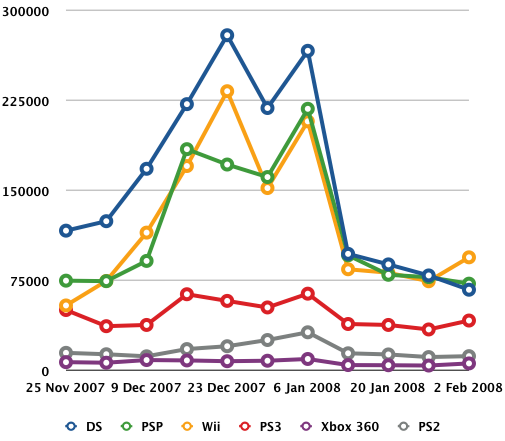 Source: Media Create/Register Hardware
The figures come from local market watcher Media Create, which also revealed that the Wii had reversed its downturn, thanks to the release of Mario Smash Bros in Japan.
How sale will fare after players began experienced problems with the game - issues Nintendo attributed to cigarette smoke - remains to be seen.
The release of Devil May Cry 4 lifted PS3 sales a bit too, to 41,796 units, the console's highest weekly sales since the first week of January.
The PS2 and the Xbox 360 continued to sell much as they have to date.
Sponsored: Minds Mastering Machines - Call for papers now open