Start drilling down into the sub-menus, however, and you're going to need that stylus.
The W960i's stylus is very light and when in its 'slot' is stored securely and unobtrusively. In fact, had the spare one not fallen out of the box we wouldn't have noticed it came with one until we read the manual. One the downside, it's a nasty bit of cheap bendy plastic that really is not a lot of fun to use.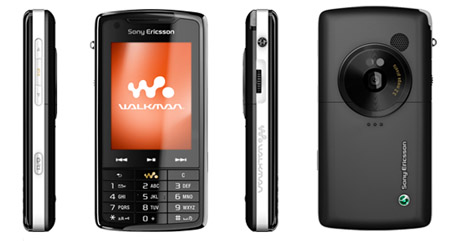 It's handsome enough, but lacks any design drama
When required, text can be entered using the keypad, a virtual keyboard or via handwriting recognition. Your reviewer is left-handed, making the last a non-starter, though a temporarily amusing one.
The UI is, to be quite honest, a bit of a dog's morning repast. If you hold the phone in your right hand the scroll wheel is hard to use, but if you hold it in your left you can't easily hit the 'back' key on the keypad, while the soft Back key that appears in the upper right corner of the screen is not well placed for lefties either. Some form of central nav-pad or navigation key would have made life a lot easier for all concerned.
The three soft keys displayed at the bottom of the screen don't seem to work with quite the same fluidity or sureness of those on the K850i. Maybe it's because directly below them are three touch-sensitive keys that light up when in Walkman mode and, respectively, stop/pause, fast forward and rewind the music player. The touchscreen itself works well though, with finger sweeps taking you up, down and around smoothly.
COMMENTS
Business Card Scanner
"Something we haven't come across before was the Business Card Scanner."
Isn't this a standard feature on HTC/O2 Smartphones these days?! You really should have come across it...!
Can we get Symbian to the K-series?
I've been very impressed with the Java Platform on my K790a, even though I have found a few bugs here and there. I'm hoping that JP8 on the K850i is even better, but man, Symbian on the K-series would be very cool.
Paris, on my K-series, please.
Track ID
Track ID is indeed present on the 960i, as it is on the 850i.
K850i + 8GB M2 = W960i? Ehh, what are you smokin'..:)
I don't know what are you smoking but I want some - K850i is well behind this phone, I think (sans HSDPA over UMTS, of course.)
I have this phone for a while and:
- I use it *without* the stylus (until few days ago I don't even know where did I put my stylus) and
- with *one hand*
- yet I can access *everything* including *submenus as well*
- this latest Symbian OS - same as in P1 - is waaaaay ahead of the K850i's proprietary SE OS
- touchscreen + roll-wheel + shortcuts give you *multiple* ways to click, start, access etc
- 8GB+160MB might sound limited for some people but in reality out of my 100GB+ collection I have over 1000 high-quality (e.g. 320k MP3) songs on it, along with few videos (including the ones I shot during last Fall's The Cult concert :))
- paired with SE's stereo BT headsets it's an excellent urban traveler's music+web setup.
Am I right when I think this article forgot to mention that W960i it comes with TrackID? If so it must be mentioned, even if it's standard on most SE phones because trackID *IS* the *best-ever* application for *any* music lover - it works literally everywhere for me, even in noisy pubs!
I must admit it took a few weeks until I figured out the best ways to use it, espcially with one hand - no, I'm not disabled but it's NYC here, the other one holds the coffee mug :) - but once you discover all the tricks you really develop an appreciation for the very thoughtful engineering that went into this phone.
Perhaps it's time to learn how to use it properly, Alun? ;) :P
FYI: it takes a bit more than few days but ever since I got this phone - few months ago - I have not touched my perfectly working WM6-running HTC TyTn...
This phone has a great potential but SE dropped the ball when they did not introduced here, in the US. I've showed it to 4-5 of my colleagues so far and at least 2 people immediately dropped the idea of buying an iPhone, they want W960i instead - too bad SE priced it stupidly high, they should go down at least $100 below Apple's price (8GB) and start promoting it heavily on these markets (the US, that is.)
Hmmm...
...doesn't sound good enough phone for me to relinquish my brushed ally W880i...