Sony Ericsson Walkman W960i music phone
It's a phone. It's Walkman. It's a robot. Well, maybe not a robot...
Start drilling down into the sub-menus, however, and you're going to need that stylus.
The W960i's stylus is very light and when in its 'slot' is stored securely and unobtrusively. In fact, had the spare one not fallen out of the box we wouldn't have noticed it came with one until we read the manual. One the downside, it's a nasty bit of cheap bendy plastic that really is not a lot of fun to use.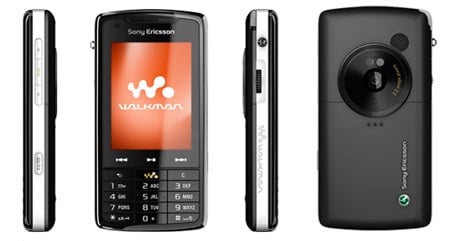 It's handsome enough, but lacks any design drama
When required, text can be entered using the keypad, a virtual keyboard or via handwriting recognition. Your reviewer is left-handed, making the last a non-starter, though a temporarily amusing one.
The UI is, to be quite honest, a bit of a dog's morning repast. If you hold the phone in your right hand the scroll wheel is hard to use, but if you hold it in your left you can't easily hit the 'back' key on the keypad, while the soft Back key that appears in the upper right corner of the screen is not well placed for lefties either. Some form of central nav-pad or navigation key would have made life a lot easier for all concerned.
The three soft keys displayed at the bottom of the screen don't seem to work with quite the same fluidity or sureness of those on the K850i. Maybe it's because directly below them are three touch-sensitive keys that light up when in Walkman mode and, respectively, stop/pause, fast forward and rewind the music player. The touchscreen itself works well though, with finger sweeps taking you up, down and around smoothly.
Sponsored: Minds Mastering Machines - Call for papers now open