Sony Ericsson Walkman W960i music phone
It's a phone. It's Walkman. It's a robot. Well, maybe not a robot...
Review The new W960i may sit atop the Sony Ericsson music phone tree but is it supposed to be a smartphone or a music phone? Maybe a bit of both. The problem with the phrase 'a bit of both' is that it's seldom the harbinger of anything other than compromise or muddled thinking.
If we had to describe the aesthetics of the W960i in one word it would be 'photogenic', by which we mean it is just a little disappointing in the flesh, or rather the plastic. It's handsome enough in black with a white band around the edge, and at 109 x 55 x 16mm and 119g feels good in the hand. But it lacks any of the design drama of such recent Sony Ericssons as the K850i - reviewed here, T650i or S500i - reviewed here.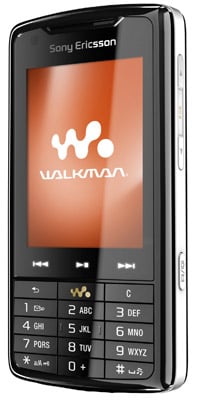 Sony Ericsson's W960i: 8GB of storage but no memory card slot
Other external observations? Well, the touch sensitive, 2.6in, 240 x 320, 256,000-colour screen seemed a little on the dull side when compared to other recent Sony Ericsson offerings, while the shiny silver lanyard anchor on the left of the handset looks horribly out of place.
Some aspects of the specification are very much a case of 'With one hand I giveth and with the other I taketh away': you get 8GB of storage memory, but no Memory Stick or SD slot, and while you get 3G it only runs up to 384Kb/s rather than the full banana 3.6 or 7.2Mb/s HSDPA.
In a range-topper phone, the lack of HSDPA in this day and age is frankly a bit off and restricts the value of the phone as a 3G laptop modem. Beyond the 8GB of storage you also get 256MB of Flash memory though the OS takes up 96MB of this.
COMMENTS
Business Card Scanner
"Something we haven't come across before was the Business Card Scanner."
Isn't this a standard feature on HTC/O2 Smartphones these days?! You really should have come across it...!
Can we get Symbian to the K-series?
I've been very impressed with the Java Platform on my K790a, even though I have found a few bugs here and there. I'm hoping that JP8 on the K850i is even better, but man, Symbian on the K-series would be very cool.
Paris, on my K-series, please.
Track ID
Track ID is indeed present on the 960i, as it is on the 850i.
K850i + 8GB M2 = W960i? Ehh, what are you smokin'..:)
I don't know what are you smoking but I want some - K850i is well behind this phone, I think (sans HSDPA over UMTS, of course.)
I have this phone for a while and:
- I use it *without* the stylus (until few days ago I don't even know where did I put my stylus) and
- with *one hand*
- yet I can access *everything* including *submenus as well*
- this latest Symbian OS - same as in P1 - is waaaaay ahead of the K850i's proprietary SE OS
- touchscreen + roll-wheel + shortcuts give you *multiple* ways to click, start, access etc
- 8GB+160MB might sound limited for some people but in reality out of my 100GB+ collection I have over 1000 high-quality (e.g. 320k MP3) songs on it, along with few videos (including the ones I shot during last Fall's The Cult concert :))
- paired with SE's stereo BT headsets it's an excellent urban traveler's music+web setup.
Am I right when I think this article forgot to mention that W960i it comes with TrackID? If so it must be mentioned, even if it's standard on most SE phones because trackID *IS* the *best-ever* application for *any* music lover - it works literally everywhere for me, even in noisy pubs!
I must admit it took a few weeks until I figured out the best ways to use it, espcially with one hand - no, I'm not disabled but it's NYC here, the other one holds the coffee mug :) - but once you discover all the tricks you really develop an appreciation for the very thoughtful engineering that went into this phone.
Perhaps it's time to learn how to use it properly, Alun? ;) :P
FYI: it takes a bit more than few days but ever since I got this phone - few months ago - I have not touched my perfectly working WM6-running HTC TyTn...
This phone has a great potential but SE dropped the ball when they did not introduced here, in the US. I've showed it to 4-5 of my colleagues so far and at least 2 people immediately dropped the idea of buying an iPhone, they want W960i instead - too bad SE priced it stupidly high, they should go down at least $100 below Apple's price (8GB) and start promoting it heavily on these markets (the US, that is.)
Hmmm...
...doesn't sound good enough phone for me to relinquish my brushed ally W880i...