Intel Skulltrail high-end gaming system
Intel's showcase gets Nvidia SLI and AMD CrossFire
One HD 2900 XT performed as expected but two cards in CrossFire delivered more than 90 per cent extra performance which suggests that there's nothing wrong with Intel's PCI Express configuration. Perhaps the add-in Nvidia chips slow SLI performance but we can hardly wait for AMD to sort out its CrossFire X drivers so we can try three or four graphics cards.
Power Draw Results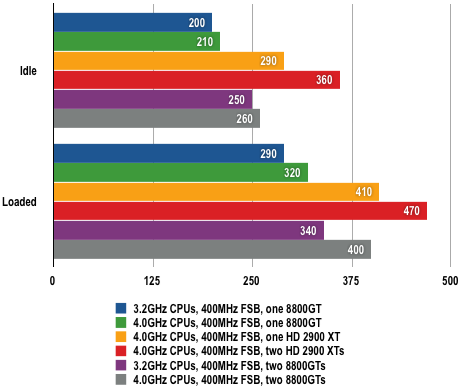 Power draw in Watt (W)
So what do we think of Skulltrail? More importantly should you buy it? Well yes, you should, provided you fall into a very specific category of PC user. If you're developing games and want to check performance on a blisteringly fast PC with the ability to switch between makes of graphics cards then you should form a very short queue over there under the Intel sign.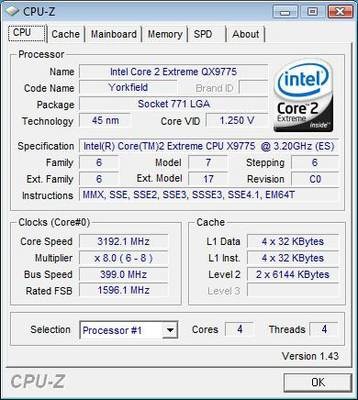 The rest of us don't need dual quad-core processors. It's questionable whether we need a single quad-core processor, although dual-core is certainly a necessity. And we're quite sure that FB-DIMM memory has no place in a desktop PC. Intel deserves a pat on the back for coming up with a system that supports both CrossFire and SLI, and all it has to do now is make it smaller, quieter and much, much cheaper.
Verdict
As a technology showcase there's no denying that Skulltrail is compelling. But just like that other skull, the diamond encrusted one by Damien Hirst, you can look without feeling any need to buy.
We've rated Skulltrail at 70 per cent, but you can break that down to 100 per cent for performance, 80 per cent for desirability and 30 per cent for value.
Sponsored: Minds Mastering Machines - Call for papers now open

Intel Skulltrail high-end gaming system
Skulltrail is the fastest and most expensive PC hardware we've ever seen but it gives you the choice of running CrossFire or SLI...
Price:
Approx £2000 (motherboard, memory and processors) RRP