Intel Skulltrail high-end gaming system
Intel's showcase gets Nvidia SLI and AMD CrossFire
So what of the graphics? First, there's that cooler on the Nvidia chips and Southbridge. The 48mm fan screams away and makes such a racket that we felt obliged to quieten it down with a Zalman fan controller. It's not a particular surprise to find noisy cooling on a server or workstation product but the strange thing is that Intel included a couple of large Zalman CPU coolers in the review kit that were both effective and quiet. We also added fan controllers to those two fans and made them significantly quieter but at least Intel made an effort and we hope that it continues to make strides in this area.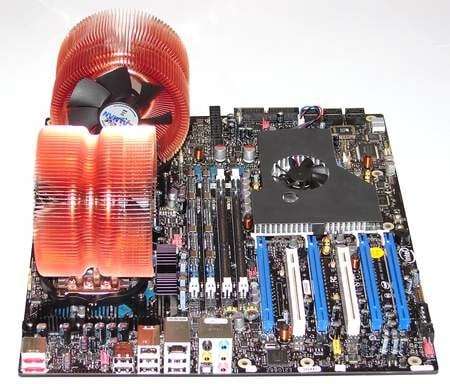 Serious cooling
We were able to run a single GeForce 880GT very effectively in the synthetic 3DMark06 benchmark and found that performance climbed by some 25 per cent when we added a second 8800GT in SLI. In an ideal world we'd have run a third 8800GT in Tri-SLI but the Nvidia graphics drivers reserve that treat for 'G80'-chipped 8800GTS and GTX cards, and when we plugged in a third GT the SLI option vanished.
3DMark06 Results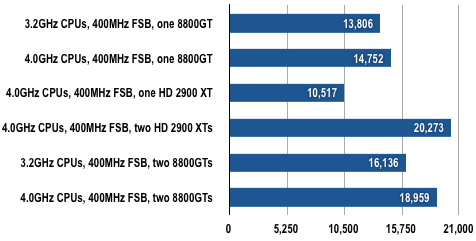 Longer bars are better
We had much greater success with a pair of PowerColor HD 2900 XT graphics cards, which were used in place of the more desirable HD 3870 as we didn't have any of them to hand. The performance of the two models is very similar however the HD 2900 XT draws considerably more power than the HD 3870.
Sponsored: Minds Mastering Machines - Call for papers now open