Intel Skulltrail high-end gaming system
Intel's showcase gets Nvidia SLI and AMD CrossFire
The D5400XS is a thoroughly modern motherboard without any legacy ports. You get six USB 2.0 ports on the I/O panel, two eSATA ports, Gigabit Ethernet, one Firewire port and five audio mini jacks and an optical output for the Intel HD audio. There are six 3Gb/s SATA connectors with Intel RAID on one edge of the board next to the single ATA-100 connector, and along the foot of the board there is a debug POST display and micro buttons for Power and Reset.
Scattered around there are seven fan connectors which leaves five spare for case fans once the CPU coolers are hooked up, although you'll need one fan pointing at that pesky FB-DIMM memory as it gets unpleasantly hot. You'll need a hefty power supply with plenty of connectors for Skulltrail. In addition to the usual 24-pin ATX connector, there are two eight-pin connectors and at the foot of the board there's an additional four-pin Molex connector.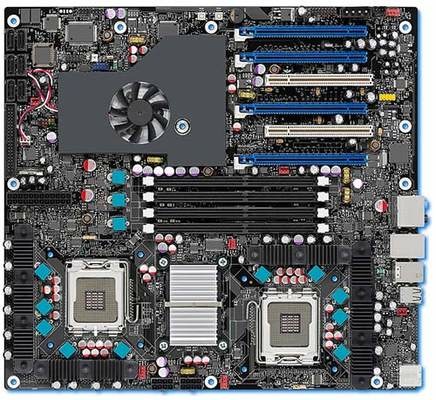 Four PCIe slots and a bis southbridge cooler
But you won't notice any of that because you'll be transfixed by the four PCI Express graphics slots with a couple of PCI slots interspersed among them. The other dominant feature is the heatsink that covers the best part of one quarter of the board. The heatsink cools the 6321ESB southbridge as well as two Nvidia nForce 100 PCI Express chips. That's right, this Intel motherboard carries two Intel chips and two Nvidia chips, and the explanation may just take your breath away because Skulltrail supports both CrossFire and SLI.
Intel chipsets have supported CrossFire for some time but Nvidia has steadfastly refused to license its SLI technology to Intel. If your Nvidia graphics drivers don't detect a suitable Nvidia chipset they refuse to allow you to enable SLI. With the addition of the nForce 100 chips this issue has been sidestepped, albeit in a rather elaborate manner.
Sponsored: Minds Mastering Machines - Call for papers now open