Sony Ericsson ponders detachable-screen clamshell
Remove display, use it separately
Documents filed with the US Patent and Trademark Office by Sony Ericsson have revealed designs for a handset with a display that's able to detach from the keypad and twist in numerous ways.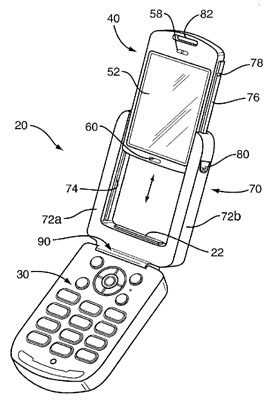 Sony Ericsson's phone separates into two units
In the documents, SE describes how the unnamed handset would comprise two detachable units which could communicate with each other over short-range communications, such as Bluetooth or near-field technology. Essentially a clamshell handset, the display can be removed and flipped over or twisted around to give users' several orientation options.
It's unclear exactly what the phone's capabilities would be, should it ever find its way into production. However, the patent documents do mention Edge connectivity, a Personal Digital Assistant, a camera and Wi-Fi.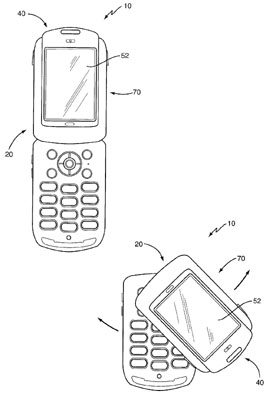 The display may twist 360° around the keypad
But what's the benefit of such a handset? Well, you could watch films by flipping the screen around when the handset's closed. Or, if SE builds a speaker into the display, then you could detach it and put it on a shelf, whilst controlling the music stored on a Memory Stick - it's still a Sony handset after all - through the phone's keypad section.
SE has a history of taking new slants on existing hardware. It's already filed a patent for a PlayStation Portable design, which suggests it being turned into a handset by twisting the display around.
However, SE's latest filing takes twistable displays to a whole new level...
Sponsored: Minds Mastering Machines - Call for papers now open