AMD ATI Radeon HD 3870 X2 dual-GPU graphics card
Do two GPUs equal double the value?
On the Nvidia front, we'd have liked to use a GeForce 8800 GTX as it costs about the same as the X2 but once again we let the side down as we only had an 8800 GT on the shelf. This too is a reasonable comparison as the GT delivers a fair proportion of the performance of its big brothers, but that's what happens when a review sample arrives at the weekend. As we recently reviewed the Asus EN8800GT 1GB - read all about it herewe gave it an outing alongside the faster EN8800GT TOP.
Power Draw Results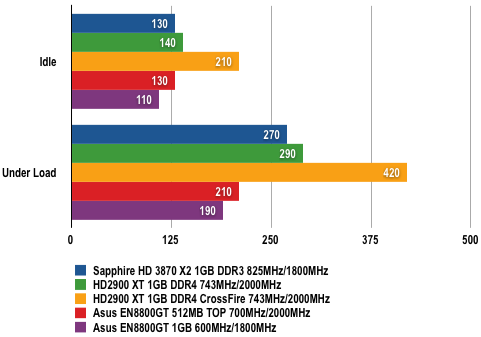 Power draw in Watt (W)
In 3DMark06, the X2 had very similar performance to the pair of 2900 XTs in CrossFire, although the figures diverge at extreme resolutions with anti-aliasing (AA) enabled. This may be due to the extra memory on the 2900 XTs.
3DMark06 Results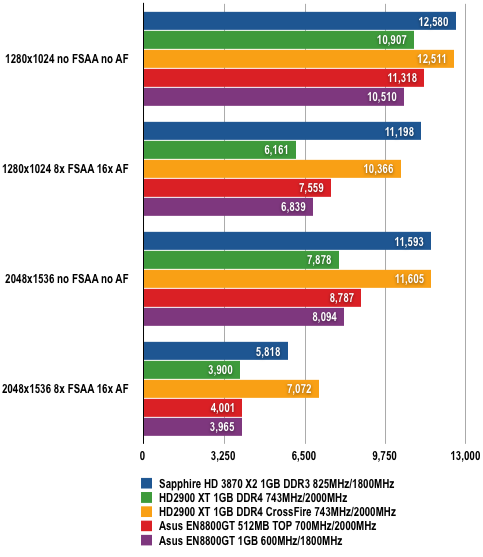 Longer bars are better
The extra performance of CrossFire rises exponentially as the load increases, so at a resolution of 1280 x 1024 there's not much advantage to be gained. Add in AA, and CrossFire gives you a 60 per cent increase in performance, and when the resolution is increased to an astronomical 2048 x 1536 with AA the gain rises to 75 per cent.
In the same tests, the GeForce 8800 GT models delivered performance that started the same as a single HD 2900 XT but as the workload increased it became clear that the X2 had the legs on the 8800 GT to the tune of 50 per cent which seems about right as the X2 costs 50 per cent more than an 8800 GT.