AMD ATI Radeon HD 3870 X2 dual-GPU graphics card
Do two GPUs equal double the value?
Using a PCI Express 1.1 bridge chip between the two HD 3870 GPUs seems like an odd move as it would appear to be a bottleneck in performance. Nvidia did something similar with its nForce 780i chipset as most of the PCI Express is controlled by an nForce 200 chip which also supports PCI Express 1.1, so it's clear that both AMD and Nvidia feel that the older standard has plenty of bandwidth headroom at present.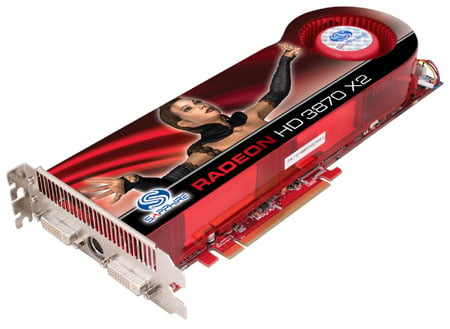 One change for the X2 compared to the HD 3870 is the addition of a second power connector. Just like the old HD 2900, there's one six-pin and one eight-pin connector, and while you can use a pair of six-pin PCI Express connectors this has a downside. If you want to use the Overdrive part of the Catalyst drivers to overclock your X2 then you need to use an eight-pin feed. Your reviewer has a fair few high-end power supplies kicking around, among the, three that have four six-pin connectors for all manner of SLI and CrossFire configurations but none has an eight-pin connector for the graphics. The odds are that you're in the same boat, so if you're considering an X2 and fancy a spot of overclocking then you'd better budget about £150 for a new, suitable power supply.
Installing the X2 was an absolute doddle as the CrossFire element is permanently enabled so you plug in the card, install the drivers - beta in this case - and you're good to go.
We tested the Sapphire card on an Abit IP35 Pro with an Intel Core 2 Q6600 processor and 2GB of Corsair memory all running Windows Vista Ultimate Edition. In an ideal world, we'd have compared the X2 with an HD 3870 but we didn't have one to hand. What we did have, however, was a pair of PowerColor HD 2900 XT cards. These boys deliver the same performance as the HD 3870 although they consume far more power. The comparison isn't completely fair as the PowerColors have 1GB of memory on each card instead of the usual 512MB but it's close enough to act as a useful test.