AMD ATI Radeon HD 3870 X2 dual-GPU graphics card
Do two GPUs equal double the value?
Review Everything about the Sapphire ATI Radeon HD 3870 X2 graphics card is big, including the model name, so we're going to stick to calling it the X2 here.
The principle behind the X2 is simple enough. AMD's ATI Radeon HD 3870 is a decent graphics card but it's having a job competing with Nvidia's GeForce 8800 family, which is the reason why it was priced at just £150. So how do you increase the performance of the HD 3870? That's easy - you gang up two of them in CrossFire. But what if you don't want to stuff your PC case with two double-slot graphics cards?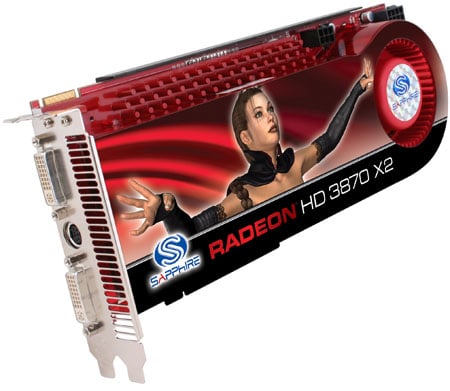 Sapphire's ATI Radeon HD 3870 X2: one board, two GPUs
The answer is CrossFire on a single graphics card, and here's the AMD recipe for success. Take two HD 3870 chips - reviewed here - and two batches of 512MB of GDDR 3 memory. Add a PCI Express 1.1 bridge chip, mix the whole lot together on a 263mm-long graphics card and - bingo - you've got the X2.
You won't be surprised to learn that the specification of the X2 bears an uncanny resemblance to a pair of HD 3870s while the appearance is very much like a 3870 with an extra couple of inches tacked on the length. While Sapphire's first take on the X2 is a reference design, Asus has done something that is most unusual by producing an X2 with four DVI ports.
The X2's GPUs are made using the same 55nm production process as the HD 3870, and they support DirectX 10.1 and Shader Model 4.1, and have 320 Stream Processors in each chip. That's 640 Stream Processors in total with a transistor count that has climbed past 1.3 billion. Each GPU has 512MB of GDDR 3 memory to itself, connected to its own 256-bit controller, so there's 1GB in total.
The card is longer than a regular HD 3870 board, but it looks very similar and has the same beefy heatsink along the full length of the card, with a dust-buster fan at the far end that draws cooling air from inside your PC case. The air is blown through the heatsink and exhausts through the vented bracket to the outside world.
The core speed of the X2 has been increased from the HD 3870's 775MHz to 825MHz, while the memory speed has decreased from 2250MHz to 1800MHz. The memory controller supports both GDDR 3 and GDDR 4 so it would be no surprise if a graphics card manufacturer was to come up with an X2 with 2GB of fast memory. Whether it would make any sense is a completely different question.
Sponsored: Minds Mastering Machines - Call for papers now open