Punxsutawney Phil predicts six more weeks of winter
That's right, woodchuck-chuckers - it's Groundhog Day
At the curiously-named Gobbler's Knob, in the town of Punxsutawney, western Pennsylvania, just a few moments ago, the little furry form of Punxsutawney Phil cautiously emerged, sniffed around for a bit... and then quietly muttered in Groundhogese that his own shadow he could see. So according to the seer of seers, the prognosticator of prognosticators, an early Spring is out of the question for 2008.
The tradition of making a small, furry mammal appear and predict the rest of the winter's weather dates back to 1887, and was actually invented as a ratings-boosting ploy for the local rag.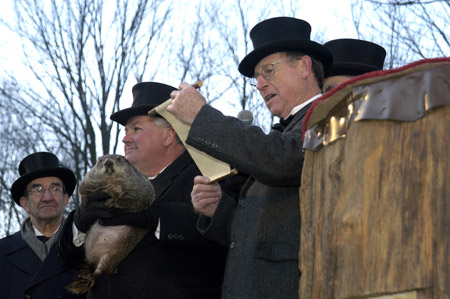 Punxsutawney Phil and his handlers, in real life, oh yes
Although the tradition, technically dating back to Candlemas Day, was in full swing back then, the editor of said rag decided that "Punxsutawney Phil", a groundhog he evidently had particular affection for, would be the one and only official voice of mammalian weather forecasting for the region, no doubt helping reader figures of the official newspaper partner along the way.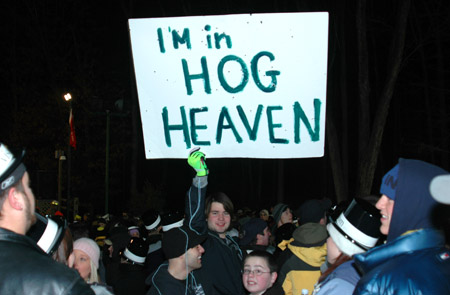 The crowd gathered all night to watch the 122nd prediction that took place at 7:30am EST
According to legend, if Punxsutawney Phil emerges and sees his shadow, there will be six more weeks of winter weather. If he doesn't see his shadow, there will be an early spring.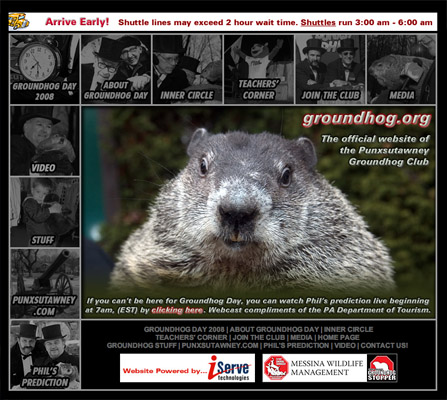 Groundhog Day Organisation website
Skip forward 120 years and this quaint local tradition, always conducted on 2nd February - and helped along in popularity by the comedic talents of Bill Murray - attracts crowds of around 20,000 and is broadcast live on the web. You can catch the highlights on the Groundhog Organisation website. ®
Sponsored: Minds Mastering Machines - Call for papers now open