Nokia N82 smartphone
Don't judge this book by its cover
Nokia's growing portfolio of multimedia services, now under the Ovi banner, include video downloading and streaming of video content from a variety of sources – including YouTube - using the Nokia Video Centre app. These can be played on the RealPlayer media player.
The N82's S60 operating system gives plenty of scope for adding extra applications. The 'A Download!' tool links you to a site where you can select and download additional apps over the air, for free, although you can splash the cash for others too. The browser offered here is a standard Nokia Web Browser, taking you into the full web, and uses thumbnail guides to help you navigate around pages. It's suitably speedy on 3G and Wi-Fi, providing a decent mobile browsing experience.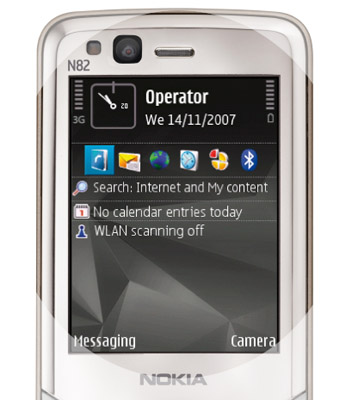 Using the GPS and multimedia features will sink the battery faster
You can also use a Bluetooth keyboard with the N82 if tapping out emails on the tricky numberpad becomes too much of an issue. The standard spread of Nokia's PC-synchronisable contacts, calendar, and to-do lists and are included.
With such a heavyweight multimedia and smartphone presence, sufficient battery life is obviously a key issue. Nokia claims the supplied 1050mAH battery will keep powering the N82 for up to 210 hours on standby for 3G networks or 225 hours on standard GSM. Talktime is quoted at up to 190 minutes on 3G or up to 260 minutes on GSM. It can keep playing music for up to ten hours in offline mode.
That's less time between re-juicing than on the N95 8GB, which admittedly comes with a higher capacity battery. While everyone's usage will be different on such a multi-tasking handset, users will find that heavily driving the N82's GPS and multimedia's capabilities will sink the battery faster.
Our experience with the phone suggests that, in general, use you should comfortably be able to get 2-3 days' usage before you need to recharge.
In terms of back-to-basics voice performance, any concerns about the plastic casing impacting on call quality are unfounded. There's no creakiness when handling the phone or making calls, and the sound quality is first rate.
Verdict
The N82 may not have the 8GB memory of the latest N95, but it does carry a similarly heavyweight set of features plus Wi-Fi and HSDPA 3G high-speed connectivity options. Its five-megapixel camera produces arguably the best cameraphone pictures yet seen in a European mobile, and it has a very capable GPS satnav facility.
But with the abilities the N82 has to offer, it's a shame that Nokia hasn't made its flagship candybar smart in the looks department too. The curious numberpad key design is unnecessarily fiddly, and the overall plasticky look and feel could also put off buyers.
Nonetheless, Nokia has produced a remarkable all-round smartphone, a device with stacks of high-end functionality and which delivers a first-class multimedia performance that's more than skin deep.
Sponsored: Minds Mastering Machines - Call for papers now open

Nokia N82 smartphone
Despite a face that launched a thousand quips, Nokia's N82 is beautiful on the inside and delivers a stunning cameraphone performance...
Price:
Contract: free to £130; pre-pay: N/A; handset only: £400 RRP