Garmin takes on iPhone with satnav mobile
Make calls, plan routes
Is it a satnav, or is it a mobile phone? Garmin's hoping you'll think its latest device is both, because the Nüvifone lets you find locations and make calls through a fancy touchscreen UI.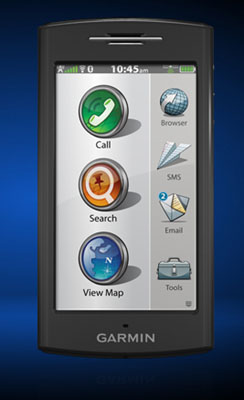 Garmin's Nüvifone: a mobile phone and GPS combined
The Nüvifone combines 3.5G cellular connectivity with Garmin's established GPS technology. It includes maps for North America, Eastern and Western Europe, and a database with over 1m points of interest.
The Nüvifone has a 3.5in touchscreen that provides users with access to Google apps. And, for that true mobile phone feeling, it also supports text messaging, email and instant messaging, while at the same time supporting MP3 audio and various video formats though its on-board media player. There's even a built-in video camera.
The Nüvifone's capable of browsing the web, but the manufacturer's still included its Garmin Online application. This provides users with all the critical information required for living a hi-tech 21st Century life, such as fuel prices, stock movements and sport scores.
However, Garmin hasn't forgotten its roots. Should you get lost out in the wilderness, then the Where am I? function displays your exact coordinates, as well as details of, say, the nearest hospital.
Garmin hasn't said much more about the Nüvifone's capabilities yet, but has promised that it'll be available in Q3. The company hasn't located a price yet.