B&O reveals self-calibrating robo TV
The set that watches itself
HD TV manufacturers often claim their TVs provide a 1080p resolution, but how can you actually check it's delivering the best picture it can? Bang & Olufsen (B&O) has the answer: a robotic arm with a camera on the end.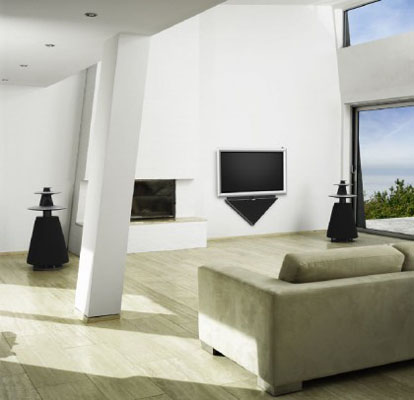 B&O's BeoVision 4 HD TV has a robotic arm for colour management
Its BeoVision 4 Ppasma telly has a 1920 x 1080 resolution and after every 100 hours of viewing – or whenever you feel like it – a short robotic arm with a camera at the end swings down from behind the set's aluminium frame and snaps a test picture.
The picture's colour temperature is automatically analysed on screen and if it fails to provide you with the best reds for Baywatch swimsuits or the deepest blacks in films, then the TV adjusts its settings accordingly. B&O said that specialist sensors also constantly measure and adjust the TV's brightness and contrast.
It's available as either a 50in or 65in display, while the glass has a specialist coating that B&O claims helps to reduce reflections.
But what robotic arm-enabled telly would be complete without an accompanying amplifier to spread sound out 180° horizontally into your bachelor-pad?
So, B&O's also unveiled the BeoLab 10 as a so-called "dedicated centre loudspeaker". It pumps out a total of 500W of sound from two speakers and, cunningly, B&O thinks the triangular speaker is the perfect complement to your BeoVision 4.
The BeoVision 4 50in display costs $7500 (£3500/€4000) and the 65in model costs $13,500 (£7500/€8000). The BeoLab 10 amplifier will set you back another $4000 (£2000/€2600). The 50in display and amplifier are available now, but you'll have to wait until March for the 65in TV.
COMMENTS
Daleks?
Those are some type of new model Dalek's in the corner of the room, aren't they.
@Bronek
A quick Google puts a pair of their bottom-of-the-range custom earphones (UE 5 Pros) at a touch over £500. B&O Earphones are around £90.
Yes, your professional monitors cost more money. There's ALWAYS a way to get better quality if you can afford it. That doesn't make the B&Os a joke in their own right, any more than their home audio range is just because a decent Meridian pre/pro setup is even better.
@Cameron & anon
Shure, like B&O. are off-the-shelf standard stuff. Try custom made Ultimate Ears, Sensaphonics or ACS if you want earphones ultimate in sound quality. Actually, B&O are kind of a joke in this context.
Nope, Anonymous Coward
The 65 Inch model is 15828 € without the Control Unit.
http://www.radio-ring.de/Preisliste_B_O_.pdf
re: B&O using others components
The B&O plasmas are (at least were, last time I looked) Panasonic panels, but they have their own, higher quality, electronics hanging off the back. So while the improvement over the Panny model is incremental, it's pretty clear if you look, particularly with standard-def sources.
Their hifi equipment is excellent, and if you're spending that kind of money on something that looks flash, kicks that horrible Bose stuff all around the park for sound and build quality.