The Eee's battery life is nothing to shout about, but it does run for half as long again as the s.book does. The s.book hard drive activity light barely flashed during playback because the 256MB movie fitted easily into memory, so hard drive operations are likely to knock back the s.book's battery life even further.
Incidentally, video playback was very choppy and effectively unwatchable on the s.book, though the same file played back just fine on the Eee. The Eee has another advantage when it comes to power: a better AC adaptor that's like a phone charger. The s.book's is a standard laptop brick.
The s.book's processor is a 1.2GHz VIA C7-M, backed up with 1GB of 533MHz DDR 2 memory. There's no way to upgrade the memory without taking the laptop to bits. The s.book's CPU certainly has a higher clock speed than the Eee's 900MHz Intel Celeron M, and it makes it presence felt: the system fan that ran constantly throughout use, no matter what we did. You might not notice it on a train, or in a busy location, but in a quiet room it's very obvious.
Even with the fan, the s.book runs remarkably hot for a small machine. So does the Eee, but to a much lesser extent. The Eee has a fan too, and benchmarking the machine quickly got it spinning up, but it was far less intrusive than the s.book's cooler, and in normal use barely spinning at all.
PCMark05 Results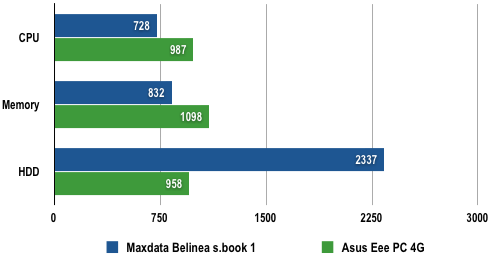 Longer bars are better
We ran PCMark05 on both the Eee and the s.book, focusing on the suite's CPU, memory and HDD tests because neither machine would run the graphics benchmark, thanks to their inferior screen size and unchallenging integrated GPUs.
As you can see from the results above, the Eee's Intel processor scored better than the s.book's VIA chip, despite the two CPUs being rated at 900MHz and 1200MHz, respectively. Clearly, all x86 CPUs are not created equally.
That said, one advantage of the C7-M is its integrated encryption engine which ought to accelerate operations like Virtual Private Network (VPN) communications. We were not set up to test this, but we'd like to hear from anyone who has experience of running VPNs over VIA and Intel machines.
The Eee outshone the s.book in the memory test too, though that's mostly because of the Ram's higher clock speed. Our Eee has 2GB of memory, more than than the standard 512MB, but only double the s.book's complement.
But the s.book's 80GB hard drive really outstripped the Eee's 4GB solid-state drive. Our Eee's 4GB drive is compressed to allow us to squeeze on Windows XP Pro and the all the apps we use, and that may have penalised its score.