Nikon's D60 digital SLR blows in - literally
Internal airflow removes dust
Nikon's blown the dust off its digital SLR (DSLR) camera range and introduced the D60, a snapper with an internal airflow mechanism to keep your shots crystal clear.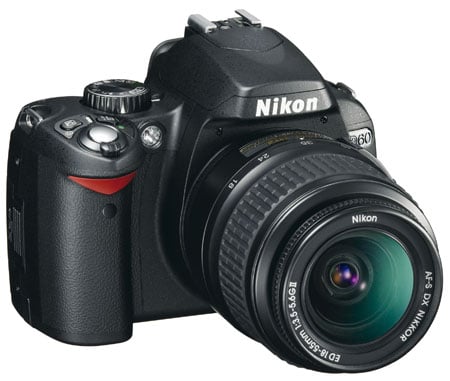 Nikon's D60: blowing out the cobwebs
Dubbed the Airflow Control System, it pulls air from within the mirror box towards a series of small ducts that, Nikon claimed, directs dust particles away from the camera's image sensor. An Image Sensor Cleaning function then uses vibrations to remove any additional dust from around the sensor.
The 10.2-megapixel D60 sits between Nikon's existing D40 and D80 DSLRs, and is described by its manufacturer as suitable for the "photographer on a budget". However, this doesn't translate into poor specifications.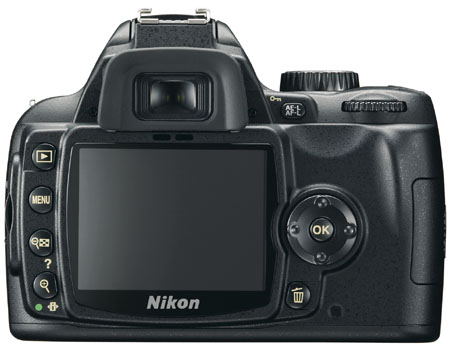 Customise your LCD's background
You'll still get a viewfinder and a 2.5in LCD, that latter of which can be customised with background images.
Images can be retouched on screen with several effects, such as a filter that allows you to manipulate an image's colours, or through Cross Section, which makes star-like lines radiate from brightly lit objects. The LCD's also able to switch between a vertical or horizontal display as you switch between portrait and landscape shots.
Both Raw and JPEG image capture is possible, with a maximum image resolution of 3872 x 2592. But, if you get bored of snapping the kids, then there's always the D60's stop-motion capture for stitching together multiple images into a jerky movie.
SDHC cards are the D60's medium of choice and a USB port is built into the body. The camera will be available next month and priced at around £500 (€550/$1000), which includes an 18-55mm lens.
COMMENTS
Sensor cleaning just a gimmick
It's a shame Nikon has felt the need to copy other camera manufacturers gimmicks rather than add something that would actually be useful.
If you change lenses a lot you're still going to need to blow dust off the sensor occasionally, and if you're an amateur who never/hardly ever changes lenses then it's completely useless!
Only a very slight step-up from the D40X really; the new lenses however are of much more interest.
Boohoo, big deal - Nikon, as usually, is very late (5 years) to the party - in fact the LAST ONE...
...because Olympus introduced the first built-in Supersonic Wave Filter dust-off system ~5 years ago, in 2003's E1 if I recall correctly.
Sony's (ex-Konica-Minolta) first DSLR, the A100 came out in Summer 2006 and featured similar dust removal filtering.
Pentax followed suit with K10 as well as Canon with 400D/Rebel XTi, both arrived in Fall 2006.
Nikon, as always, lacks way behind even in implementing a known technology, let alone actually inventing something - but, of course, PR touts it if something big has happened... not.