Device routes audio across powerline LANs
Link PC to hi-fi over the mains
Devolo has launched its latest powerline Ethernet product: an 85Mb/s adaptor designed to connect a hi-fi to a mains-hosted network so it can play streamed music.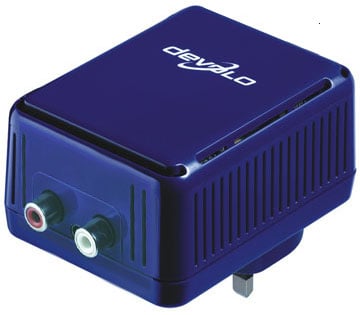 Devolo's dLAN Audio Extender: ready for remote playback
The dLAN Audio Extender looks like a typical powerline adaptor, but in place of the usual Ethernet port on the bottom it has RCA stereo ports and a 3.5mm headphone-jack socket. A set of cables come bundled to connect the unit to your music player.
Devolo's also bundling one of its regular 85Mb/s powerline adaptors. This gets plugged into the mains and to your PC, this time with an Ethernet cable.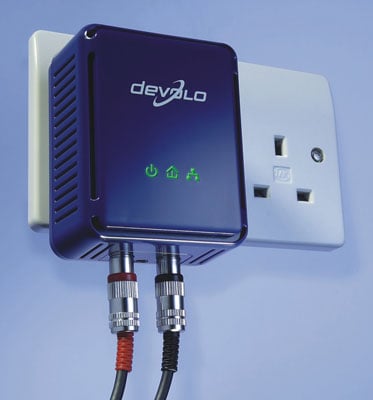 The company's own software - Windows only, alas - taps into the operating system's own sound-control facilities, making the Audio Extender appear as a sound card, allowing you to choose it as your sound playback device in place of the on-board audio sub-system.
Whatever sound your system generates, from whatever application, is then sent out over the powerline link to the Audio Extender and a hi-fi or powered speakers.
Already got an 85Mb/s powerline network? The Audio Extender alone will set you back £80. Devolo's also offering a starter kit containing the Audio Extender, an 85Mb/s powerline adaptor and cables for £120.
Related Reviews
• Devolo dLAN Wireless Extender
• Solwise Simple Connect powerline Ethernet adaptor
• Netgear XEPS103 powerline power brick
• Devolo dLAN 200 AVdesk HomePlug AV network adaptor


Sponsored: Minds Mastering Machines - Call for papers now open