Pink shades wash over Palm and BlackBerry
Valentine's Day phones
Valentine's Day is fast approaching and that sickly, slushy, gooey lovin' feelin' has already started to seep into the manly consumer technology market. Palm and Blackberry have launched pink editions of existing handsets.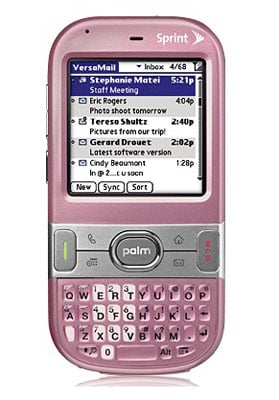 Palm's pink Centro handset...
With Palm's pink Centro, your love will get a dual-band CDMA 2000 EvDO radio handset, with a 320 x 320 colour touchscreen. It also sports a Micro SD memory card slot, which can be used to store loved-up snaps taken on the phone's 1.3-megapixel camera. It's got a Qwerty microkeyboard.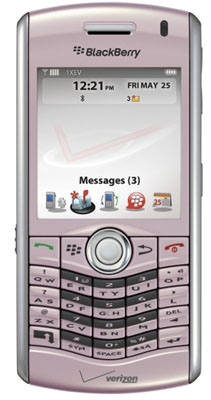 ...and RIM's pink Pearl 8130
The handset, which was originally unveiled in September 2007, uses version 5.4.9 of Palm's OS and comes with several useful software applications, such as instant messaging, Google's Mobile Maps and the game Sudoku.
Alternatively, you could get the her/him indoors a roseate BlackBerry Pearl 8130 from Research in Motion (RIM). It offers a two-megapixel camera, Micro SD memory card slot and Bluetooth connectivity. The handset uses a Qwerty keyboard, of course, and is dual-band CDMA enabled.
The bad (?) news is that both handsets only seem to be available in the US so far, where they retail for $150 (£75/€100) and $100 (£50/€80) respectively. So, it looks like Brits'll have to settle for chocolates and roses again this year...
Sponsored: Minds Mastering Machines - Call for papers now open