Nokia E51 executive phone
Does the business
Nokia has designed the E51 to be a phone that's easy to use and functionally spot on for business users, but which also has the flexibility to become much more. There's a Download! tool included that gives you a quick link to apps you can download for free to beef up the E51's out-of-the-box spec.
Among these are a Windows Live Messenger and Hotmail application, F-Secure Mobile Anti-Virus software, WorldMate travel and weather information app, MobiPocket Reader Pro ebook reader, Nokia's WidSets widgets application, plus a range of other tools and entertainment downloads.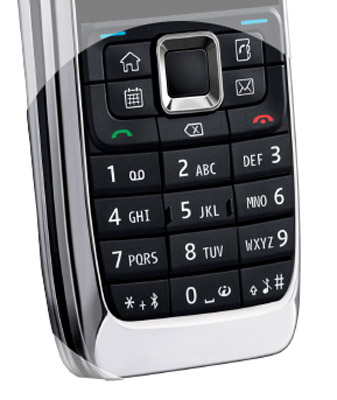 The keypad is large and responsive
There's no built-in GPS receiver on the E51, but Nokia has included its Nokia Maps satellite navigation application. This can be used for full positioning and navigation in conjunction with a standard Bluetooth GPS module. Even without a GPS module, you can get routing information or local points of interest by tapping in the relevant locations.
As well as doing the business in a businesslike manner, the E51 has a familiar selection of multimedia entertainment features. Its HSDPA capability enables fast downloads or streaming of video or audio content to the phone, although the Nokia Music Store isn't yet supported on this device.
The music player software interface offers a familiar rundown of tracks by artists, albums, track lists and genres, and supports album cover art on playback. It's simple to use – the nav-pad takes control – while the sound performance is perfectly acceptable through the supplied headphones.
The E51 uses a 2.5mm headphone jack connector rather than a headphone-friendly 3.5mm one, so an adaptor is required if you want to upgrade the sound quality by swapping the average stereo earphones supplied to a better set. You can also use Bluetooth wireless headphones with the E51 or use the built-in loudspeaker to share your tunes. You do need the headphones plugged in to act as antenna if you're tuning into the FM radio.