Samsung SGH-F700 smartphone
iPhone insurrection quashed without incident
Happily, the F700 has a regular 3.5mm headphones jack at the top and comes supplied with a rather fine, though small (unless we have big ears) pair of Samsung-branded earbuds that can either be plugged directly into the jack or into the supplied adaptor that in turn plugs into the mini-Samsung proprietary port next to the headphone jack.
This latter set up allows you to use the Samsung earphones, or any others to hand, as a hands-free headset, the top of the adaptor having a microphone and answer/hang-up switch built in. Incoming calls pause the current music track, which then resumes when you've finished gabbing and hung up.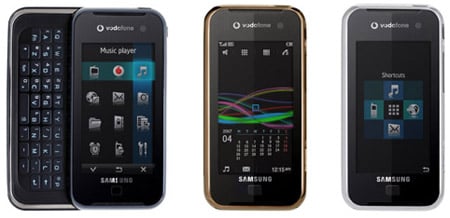 The sound you can hear is the F700 slipping between two stools
The 3Mp camera (2048 x 1536 pixels to be exact) comes with autofocus and an LED flash of limited value, like all LED flashes. Along with the usual gamut of effects filters you can also alter the ISO settings to either 100, 200 or 400.
Alas, to do this you have to exit 'camera' mode and navigate back to the main camera setting menu, which rather seems to defeat the purpose. While a digital zoom is included, there's no macro mode. For such a high-res camera the results were just a little disappointing - not bad, but not great either.
The front of the handset also houses a VGA camera for 3G video calls. We searched in vain for any clue from the F700's spec sheet as to what resolution the F700 records video at, but it looks like 15f/s 320 x 240. Either way, it's nothing out of the ordinary.
Manufacturer-quoted battery times are up to 300 hours on standby and up up to four hours' talk time. In reality, a day and a half of heavy use in a 3G area with Bluetooth switched on took us down to the final third bar on the power gauge, so we reckon Samsung is being optimistic. Our retail pack came with a nifty power adaptor - think three-pin plug with a USB socket at the back. A nice idea... only ours didn't work. The same cable worked just fine when powering up the handset from a PC USB port, so we must have just got a dodgy power brick.
A final word on the basic functionality of the phone. Signal strength was fine even in areas that are normally problematic, while call volume and audio quality, both incoming and outgoing, were more than adequate.
Verdict
It's hard to ignore the slight whooshing noise the F700 makes as it slips between two stools. If you want a cool gadget for surfing the web and media playback you're going to want an iPhone, with its Wi-Fi and better-than-the-rest browser. If you want something that does just about everything your PC does but is phone-sized and you're not concerned about using a stylus, you'll be wanting an HTC TyTn II or something similar. Should Samsung have perhaps partnered up with Google for the F700's OS, given it 8GB of memory and Wi-Fi and then really gone iPhone-hunting under the guise of the first Android smartphone?

Samsung SGH-F700 smartphone
It lacks those last degrees of desirability to give the iPhone a jolly good seeing-to...
Price:
Available exclusively from Vodafone, price dependent on contract RRP