Samsung SGH-F700 smartphone
iPhone insurrection quashed without incident
The front of the unit is dominated by the 3.2in, 240 x 440, 262,000-colour touchscreen, below which sits a button that brings the unit to life and takes you to the main menu. This control can be locked using a switch on the upper right of the handset - an effective if rather less elegant solution than that employed by the iPhone.
Other external switches are restricted to a camera activation button on the lower right of the handset and a volume/scroll control just above.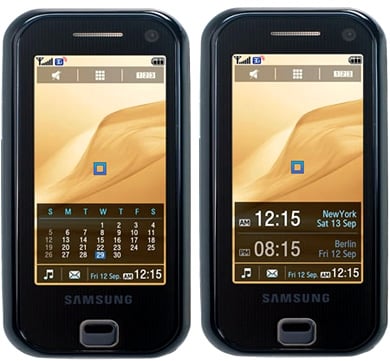 Smart-looking time and calendar read-outs
A row of four slim icons at the top of the home screen allows you to directly access the main menu, the phone keypad, the call log and the phone's silent mode. While usable, we found them just a little on the small side, and the size you see is the only size you get. While peering at the top of the screen it occurred to us that a device like this should have a rather better battery meter than the tiny three-bar article it actually comes with. Top-of-the-line phone, bottom-of-the-line power gauge.
A nice home screen refinement is the option of having two time zones showing in large, clear graphics. Swipe the clocks with a finger and they are replaced with the current month's calender.
At the centre of the home screen is a small, throbbing blue square. Tap that and you go to the shortcut menu with icons for the music player, web browser, messaging, phone and main menu. The quick-witted will notice that two of these functions are also accessible via the icons at the top of the main screen, which smacks of overkill.
Tap the main menu icon and you find yourself face to face with Samsung's Croix interface, which means when you tap an icon two blue lines, horizontal and vertical, converge on it. Menu styles are restricted to the 3 x 4 Croix configuration or a straightforward list.
As the F700 is currently a Vodafone exclusive in the UK, so two of the icons take you to Vodafone Live and the MusicStation subscription service, while the other ten take you to all the expected places.
Sponsored: Minds Mastering Machines - Call for papers now open