Mobile phone signals prevent sleep, claim boffins
Keeps the Sandman at bay
Updated If you're wondering why you rarely get a good night's sleep, then a group of boffins may have the answer: it's because of your late-night mobile phone calls.
A joint study by the Karolinska Institute in Sweden and Wayne State University in the US studied small groups of men and women between the ages of 18 and 45.
It found that when exposed to GSM wireless signals before going to bed, the guinea pigs participants took longer to drift off into deep sleep and then spent less time in that state than unexposed sleepers did. They also experienced headaches and confusion.
The 884MHz frequency used is close to that used by some mobile networks. But UK mobile services operate on a host of frequencies, ranging from 872-960MHz and 1920-2170MHz, including frequencies in between.
Those participants exposed to the mobile phone signals were exposed for three hours at at time, arguably longer than most phone calls. The researchers described this as a "worse case scenario".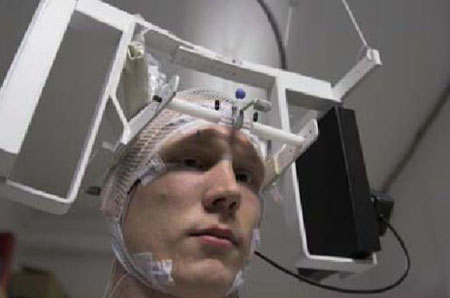 "This is Steve. I'm not in right now..."
Rather than use a real phone, the scientists effectively strapped a transmitter to each subject's head. The radiation was sent toward the left side of of the head.
The exposure was set to 1.4W/kg - less than both the US and European phone radiation exposure limits: 1.6W/kg and 2.0W/kg, respectively.
During the radiation sessions participants carried out performance and memory tests, rated their own experiences against a list of possible symptoms, and recorded their mood. As they slept, their brain activity was measured using an EEG, and after waking, they performed additional tests in the lab.
Researchers concluded that either mobile phones effect areas of our brains associated with activating and co-ordinating the stress system, or that cellular phone radiation disrupts the production of hormones controlling our body clocks.
Although if you sleep in the Starry Night Sleep Technology Bed then you'll probably be forgiven for never getting to sleep...
The paper can be read here (PDF).
Sponsored: Minds Mastering Machines - Call for papers now open