Apple colours iPod Nano pink
One for the ladies?
If your outfit doesn't yet match any of the colours the iPod Nano 8GB currently comes in, then maybe the player's new hue will tug your heart strings.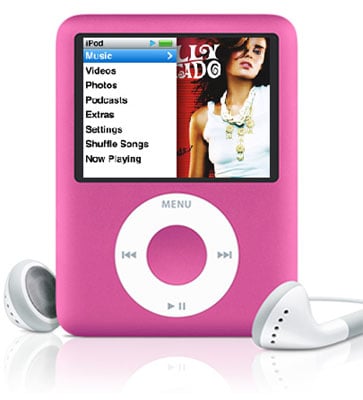 Apple's pink iPod Nano: perfect for Valentine's Day?
Yes, Valentine's Day is fast approaching, and the Nano now comes in pink. Actually, the Product(Red) charity version is more suitably coloured, but at least addled male buyers now have a choice.
The pink edition player expands Apple's range of Nano colour options to six shades, which already includes silver, black, blue, green and, as we just mentioned, red.
But, if you're more technically minded, then you'll be disappointed, because the pink Nano doesn't add anything. So, you'll still get a 2in display, Apple's CoverFlow feature for flipping through album covers, H.264 video support and up to 24 hours of battery life.
Apple's pink edition iPod Nano 8GB is available now for £130 (€160/$260).
COMMENTS
And the votes are in...
...it's officially "a bit chav" according to my significant other, who normally likes pink things (being female and all)
So there you go, Product (Red) still the one to go for fellas, as you're doing your bit for the world too.
Pinko
This latest Apple offering is cynically designed by Satan's representative on Earth (Steve Jobs) to:
1 Entice young males into becoming homosexual
2 Entice young women to become lesbian
3 Steal money by making me pay £130 whereas I can get a player which
does everything the Nano can do plus make phone calls and make
coffee for 38p down the market
4 Make me become an Apple Fanboi
5 Make my sister become an Apple Fangurl
(I just wanted to post this first before the El Reg Celebrity Dancing Trolls get in to do the Anti-Apple Fandango)
Pink! I just love it, dahlink!