Man wields soldering iron, welds eight new devices into Eee PC
Mother of all mods?
You've got to admire Ivan Cover's soldering ability if not his ability to work out how and then cram no fewer than eight extra components into his Asus Eee PC.
He also upgraded the tiny laptop's 802.11b/g Wi-Fi to 802.11n, but that's more about replacing an existing component with a new one rather than adding the functionality in the first place.
In addition to that, Ivan's fitted a USB hub, a GPS receiver with its antenna, a Bluetooth module, a second SDHC card slot, a Flash drive, a power switch, an FM transmitter and a modem.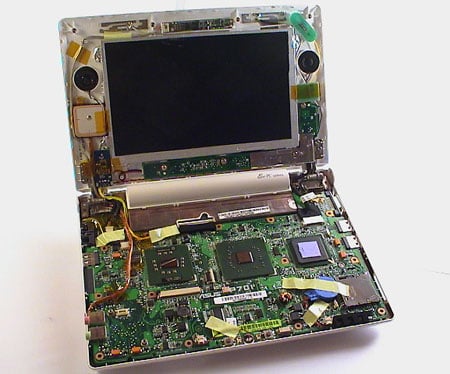 Ivan Cover's Eee PC modifications: all done and... they fit
Many of the bits were simply off-the-shelf cheap peripherals stripped of their plastic cases, USB connectors and the like and wired into the Eee.
Ivan's got full details of the modifications on his website. Even if you don't fancy pulling apart your own Eee and prodding it with a soldering iron, Ivan's got a stack of pics of the disassembled laptop, circuit board maps and so on for all you armchair modders.
Ivan's running Windows XP on his Eee, which makes driver support a little less hit and miss than the machine's own version of Linux.
Sponsored: Minds Mastering Machines - Call for papers now open