Sparks fly over electric shock dealing Dell laptop
Has your XPS M1530 given you a tingling sensation?
Some Dell laptop owners may be in for a shock, but not because of a sudden price crash on its machines. It's because a number of customers claim they are receiving electric shocks when they touch their laptops.
Numerous comments have been posted on a Dell community blog from customers owning Dell XPS M1530 laptops, which they allege gives out electric shocks. Although reports of how the shock is received vary, most claim that it's because of problems inside the supplied two-pinned power brick, which is electrifying the computer's brushed aluminium surface.
Pictures on the website show one user testing the laptop's surface with a voltage checker and registering a reading of over 100V. This may not be enough to kill you, but could make you think twice about logging in to check your emails.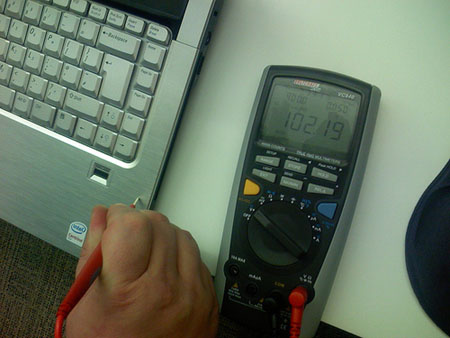 A Dell XPS M1530 owner tests his laptop
However, another startled user said that his whole body "tingles" when he touches the M1530's connected power supply. As soon as the power supply is unplugged, the problem stops, he claimed.
Further reports on the website suggest Dell has already identified an issue with two-pinned power bricks and that it has offered to replace them with a three-pinned version.
Although Dell hasn't called us back yet to speak about the problem, a statement on the Knowledge Base section of its European website does acknowledge the issue:
"The voltage (tingling sensation) does NOT present any risk of injury to the user. It is recommended to unplug the AC adaptor from the parent device before attaching any cables or accessories, as this reduces the possibility of experiencing the tingling sensation."
Still, it's more bad news for Dell. In 2004, it was forced to recall over 4m laptop power bricks over fears they could overheat and potentially catch fire. The recall affected a range of Latitude, Precision and Inspiron models.
If you've been 'tingled' whilst using a Dell laptop, Register Hardware wants to hear from you.
Sponsored: Minds Mastering Machines - Call for papers now open