Samsung SGH-G800 5Mp cameraphone
G600 + 3G = G800
The G800 has a regulation email client and a document viewer for attachments, including Word, Excel, PowerPoint and PDFs. Samsung also includes the usual suite of personal information management tools.
Our review sample didn't have any games loaded up, but the phone supports Java downloads and a link to download them - along with ringtones, themes, wallpapers and so on - from Samsung's Fun Club mobile internet site.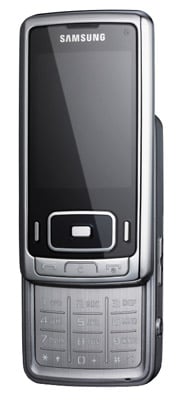 The controls are nicely understated
The G800's impressive picture-taking performance should mean users will keep it busy taking and showing off its high quality snaps. Of course, that inevitably has an impact on battery life, as will using the music or video player regularly. Samsung says the G800 should provide a minimum of up to 200 minutes' talk time or 220 hours in standby mode, though these figures don't include use of its more power-hungry features and display.
Making calls, the G800 put in a commendably fine, consistent performance, with clear, top-class sound quality at both ends throughout calls.
Verdict
The G800 isn't quite ready to replace a dedicated digital camera just yet. The autofocus system is up there with the best mobiles but isn't as sophisticated as one you'll find in a decent camera. The bulk may put off some buyers, but size-sacrifices are necessary for its high-end camera qualities.
Nonetheless, the G800 is attractive to look at and has a solid if unexceptional set of high-end feature phone functions. Its high-speed 3G HSDPA connectivity is a bonus if you're keen on downloading content or browsing, although here the browser's not the best we've seen to complement the added speed.

Samsung SGH-G800 5Mp cameraphone
If the camera on your phone is your priority, the G800 is certainly one to look at...
Price:
Contract: from free – £100, handset only: £340 RRP