Samsung SGH-G800 5Mp cameraphone
G600 + 3G = G800
Unusually for a cameraphone, the G800 has an anti-shake image stabilisation option, though it's hidden away in the settings sub-menu. Even more unusually, Samsung has added a face-detection autofocus option. As well as being able to use standard autofocus, with the camera button acting as a two-step shutter control, if you turn face detection on, the camera will automatically adjust other settings to optimise people shots. This works remarkably well, even in so-so lighting conditions.
While bright lighting conditions naturally help most cameras, the G800 features Samsung's Wide Dynamic Range technology that's designed to improve results when backlighting or varying light sources would otherwise adversely affect the exposure of subjects.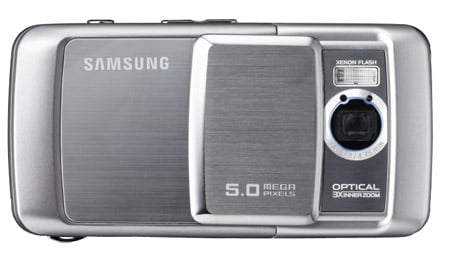 The back looks like a standalone digital camera
There are a range of settings to tweak the default auto mode: four additional white balance settings; exposure control; and options to regulate contrast, saturation and sharpness. You can change ISO settings for tweaking light sensitivity and even adjust exposure metering.
Other, more commonplace cameraphone settings, such as multi-shot and panoramic shooting; adding frames and effects; and mosaic shooting, are offered. Then there's the timer and macro mode to choose from, plus a red-eye reduction option in the flash menu. That's no bad set of options for a phone.
The results from the camera are exceptional - you can achieve superbly-detailed shots, with accurate colour rendition, and it copes impressively with tricky lighting. Shots look good printed as well as on a computer screen, and there's no great delay in processing images to frustrate you.
Photos and videos can also be uploaded to a wide variety of blogs and community websites – including Flickr, Facebook and YouTube – thanks to pre-loaded link to the ShoZu service. A ShoZu account can be created on the phone, while you can configure your account online to upload content to your preferred sites.
The video capabilities of the G800 aren't on a par with its stills quality, however. It shoots at maximum QVGA resolution (320 x 240), so while they look decent on the phone they're not particularly impressive on a computer or TV.