The G800 has a regulation email client and a document viewer for attachments, including Word, Excel, PowerPoint and PDFs. Samsung also includes the usual suite of personal information management tools.
Our review sample didn't have any games loaded up, but the phone supports Java downloads and a link to download them - along with ringtones, themes, wallpapers and so on - from Samsung's Fun Club mobile internet site.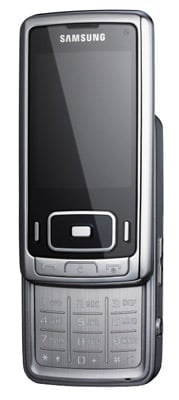 The controls are nicely understated
The G800's impressive picture-taking performance should mean users will keep it busy taking and showing off its high quality snaps. Of course, that inevitably has an impact on battery life, as will using the music or video player regularly. Samsung says the G800 should provide a minimum of up to 200 minutes' talk time or 220 hours in standby mode, though these figures don't include use of its more power-hungry features and display.
Making calls, the G800 put in a commendably fine, consistent performance, with clear, top-class sound quality at both ends throughout calls.
Verdict
The G800 isn't quite ready to replace a dedicated digital camera just yet. The autofocus system is up there with the best mobiles but isn't as sophisticated as one you'll find in a decent camera. The bulk may put off some buyers, but size-sacrifices are necessary for its high-end camera qualities.
Nonetheless, the G800 is attractive to look at and has a solid if unexceptional set of high-end feature phone functions. Its high-speed 3G HSDPA connectivity is a bonus if you're keen on downloading content or browsing, although here the browser's not the best we've seen to complement the added speed.

Samsung SGH-G800 5Mp cameraphone
If the camera on your phone is your priority, the G800 is certainly one to look at...
COMMENTS
but
can the MP3 player handle more than 20 tracks? the e900 couldn't and that was pretty recent. Also, have they started supporting phones after sale yet? firmware update anyone? warranty voided, you lose!!
The camera is crap
Just sent one of these back today, as the camera is useless in the situations you are most likely to use a camera phone, i.e. indoors with poor lighting with the camera settings on auto (the flash just does not help either) - and it had a tendency to switch off auto at will.
OK to be fair if you've never used a Sony Ericsson K750, K800, etc you might like the Samsung G800 camera, but in comparison they beat it easily.
If this had been a Sony I'd have waited for a firmware upgrade, but I could see little evidence on the Samsung support site that such updates were common. So back it's gone - remarkable how all the media reviews of this phone are singing it's praises, enough to make one wonder uncharitable thoughts.
Thank goodness, a proper (non video) review
Some sample pics would have been nice though (to see how good the optical zoom is). I wouldn't mind seeing a video of the phone in operation (but in addition, not instead of) - just to see how responsive it is.
"Unusually for a cameraphone, the G800 has an anti-shake image stabilisation option" - I have this on my K800i which is an obsolete phone
"Then there's the timer and macro mode to choose from, plus a red-eye reduction option in the flash menu. That's no bad set of options for a phone." - again I have this on my K800i which is an obsolete phone
Still, I don't want to complain too much in case we end up with style over substance and head down the "video only review" route again...