Samsung SGH-G800 5Mp cameraphone
G600 + 3G = G800
Review Samsung has put itself in the frame as a serious cameraphone contender with the SGH-G800, a five-megapixel cameraphone sporting a 3x optical zoom plus face-detection and autofocus technology.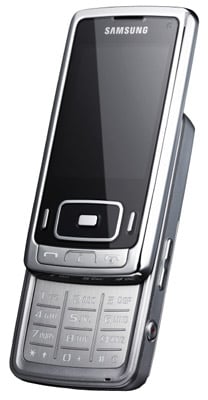 Samsung's SGH-G800: a serious contender?
Samsung has already hit the five-megapixel cameraphone mark in Europe with its stylish G600 - reviewed here. The G600 squeezed its camera into a standard frame, but the G800 has been built from the ground up with the camera as the key element of the phone. That said, it's also equipped with the latest 3G HSDPA connectivity, meaning maximum download and surfing speeds of up to 7.2Mb/s if your mobile network operator supports it.
Unlike the 2.5G G600, all the regular 3G download and streaming features are available on the G800, plus face-to-face video calling courtesy of a secondary camera above the display.
With internal user memory of up to 110MB there's enough storage for plenty of high-resolution images, or a few albums' worth of MP3s. Swappable Micro SD cards of up to 4GB are also supported if you want a capacity boost. There's an FM radio with RDS along with the digital music player.
The inclusion of the internal 3x optical zoom mechanism inside the phone's body results in a chunky device, a departure from Samsung's recent skinny models. Its official dimensions are 101.5 x 52 x 18.8mm, though this doesn't seem to include the sliding lens cover on the back, which adds a few millimetres more to the G800's overall girth. Weighing in at 129g, the G800 is slightly heavier than the comparably-sized Nokia N95.
While the bulk-factor hasn't stopped the N95 hitting the bestseller list, the G800 doesn't have quite the same heavyweight specs – such as built-in GPS and dedicated music controls - even if it does have that optical zoom edge.
COMMENTS
but
can the MP3 player handle more than 20 tracks? the e900 couldn't and that was pretty recent. Also, have they started supporting phones after sale yet? firmware update anyone? warranty voided, you lose!!
The camera is crap
Just sent one of these back today, as the camera is useless in the situations you are most likely to use a camera phone, i.e. indoors with poor lighting with the camera settings on auto (the flash just does not help either) - and it had a tendency to switch off auto at will.
OK to be fair if you've never used a Sony Ericsson K750, K800, etc you might like the Samsung G800 camera, but in comparison they beat it easily.
If this had been a Sony I'd have waited for a firmware upgrade, but I could see little evidence on the Samsung support site that such updates were common. So back it's gone - remarkable how all the media reviews of this phone are singing it's praises, enough to make one wonder uncharitable thoughts.
Thank goodness, a proper (non video) review
Some sample pics would have been nice though (to see how good the optical zoom is). I wouldn't mind seeing a video of the phone in operation (but in addition, not instead of) - just to see how responsive it is.
"Unusually for a cameraphone, the G800 has an anti-shake image stabilisation option" - I have this on my K800i which is an obsolete phone
"Then there's the timer and macro mode to choose from, plus a red-eye reduction option in the flash menu. That's no bad set of options for a phone." - again I have this on my K800i which is an obsolete phone
Still, I don't want to complain too much in case we end up with style over substance and head down the "video only review" route again...