Star Wars USB Flash drives touch down
"Princess Leia in the 4GB"
If you're working on plans for a Death Star III, then there's a new gadget in the galaxy designed to secure your vital blueprints: a Star Wars-themed USB memory stick.

Star Wars USB sticks: choose your favourite
The USB drives are available as one of four characters, including Register Hardware's personal favourite, Darth Vader. The head of each character pops off to reveal a USB connector and Star Wars content is pre-loaded onto every stick.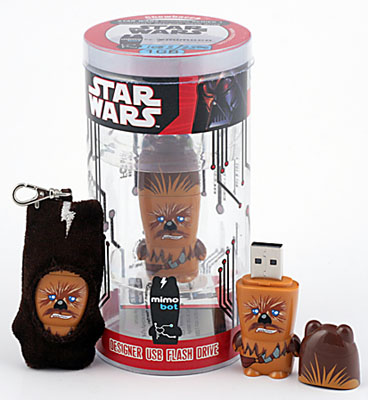 Each stick arrives in a plastic 'force-field'
Each one measures just over 2in and users can choose a storage capacity ranging from 1GB up to 4GB.
The Star Wars USB memory stick range is available now from Firebox, with prices ranging from £30 (€45/$60) for a 1GB stick to £50 (€65/$100) for a 4GB character.
May the force be with you...
COMMENTS
Expensive
I was interested until I saw the prices.
I don't want to buy the Death Star, I only want a USB stick-thingy.
What!
Where's the Boba Fett model, eh? There's always a BF model in any StarWars themed line up. Bah!
Since when...
... did R2D2 have ears? And arms? I'm not even going to start on the rest.