Vodafone USB Modem 7.2
HSDPA - and HSUPA - for the masses?
And upload speeds? It's something Vodafone tends not to mention, but it's there in small letters on the back of the box: support for HSUPA. If you're in the 7.2Mb/s HSDPA one, you also get 2.0Mb/s upload speeds, though again that's the theoretical maximum: according to the carrier, 1.4Mb/s a more likely real-world speed.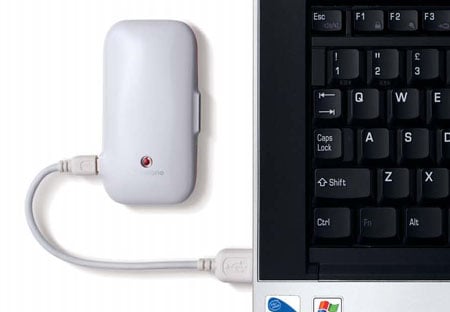 Cabled up and ready to go
A separate modem we're also trying, Novatel Wireless' Ovation MC950D, didn't register us as being in an HSUPA area, but we tried uploading in any case. FTP'ing a 7MB file took 17m 18s - an average speed of 55.25Kb/s, but we experienced peak upload speeds of up to 94.32Kb/s. That's a long way shy of 1.4Mb/s.
Since Vodafone's 7.2Mb/s HSDPA coverage isn't a widespread - it's central London and 15 airports only, as of December 2007 - if you travel, you'll quickly drop down to the 1.8Mb/s service in metropolitan areas - 80 per cent of the UK population, says Vodafone - and GPRS if you go further still. Out of central London, the upload rate's a more typical 110Kb/s or thereabouts.
Actually, some places have 3.6Mb/s HSDPA, but Vodafone bizarrely refuses to say where they are.

Vodafone's official line on expanding all these zones is that it'll review demand over the next 12 months and if other areas warrant 7.2Mb/s HSDPA and 2.0Mb/s HSUPA, it'll consider implementing these technologies. But nothing has been set in stone.
Finally, Vodafone's just released an alternative model that looks like a USB Flash drive, and that's likely to prove more popular if only for the fact it doesn't need a cable. We'll be taking a look at it in due course.
Verdict
The USB Modem 7.2 is a neat-looking add-on that delivers a decent mobile internet experience. If you have a 1.8Mb/s HSDPA modem and you're not slap bang in the middle of London, there's no need to upgrade just yet. If you don't own an HSDPA modem but you're not in the 7.2Mb/s zone, at least this boy will cope with network updates if and when they happen.
Sponsored: Minds Mastering Machines - Call for papers now open

Vodafone USB Modem 7.2
Like Wi-Fi, this gadget's real-word data transfer speed's not what it says on the tin, but it makes for a decent mobile surfing experience...
Price:
£49 on a 12-month, £25 per month contract or free on a 18-24 month, £25 per month contract RRP