Vodafone USB Modem 7.2
HSDPA - and HSUPA - for the masses?
Downloading files over the net isn't perhaps the most scientific of tests because you can't possibly take into account the state of your connection beyond an ISP's servers at any given time, and that as much as the link maintained by the modem can affect download speeds.
But then that's true of anyone using the internet so our figures are likely to be seen by other users. The bottom line: your mileage may vary depending on what you use your internet link for.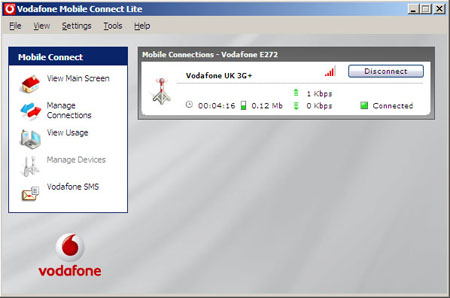 Connecting under Windows XP...
Connecting the modem to a PC brings a much wider array of functionality to the table. Plugging in the USB Modem 7.2 auto-installs the driver software, which includes Vodafone's usual text-message management software as well as the connection controller and a separate Software Update. Irritatingly, the installer slaps all these down without so much as a by your leave, so you can't choose where you want the code installed or where you want shortcut icons placed. As it is, it's accessed through a system tray icon.
Windows XP's own network connection system tray icon shows the modem connected at 7.2Mb/s, but that's clearly a pre-programmed value as we never once measured such a speed. Download tests on PC yielded numbers that matched those on the Mac.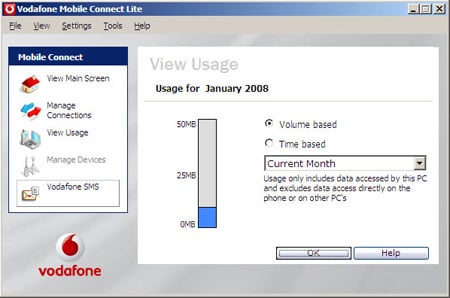 Watch that 'fair use' limit... 3GB a month, by the way
On both platforms, checking email and web browsing felt reasonably rapid, but certainly not as quick as we get when we connected to the internet over 802.11g Wi-Fi and our home 10Mb/s broadband connection. It felt like connecting to a typical public Wi-Fi hotspot. It's not the best broadband experience, but it's certainly very usable.
HSDPA is a 'bursty' technology, delivering high peak speeds rather than sustained high download rates, as our numbers show. That makes it more suitable for ad hoc web use - browsing, grabbing email and so on - rather than big-file downloading.
Sponsored: Learn how to transform your data into a strategic asset for your business by using the cloud to accelerate innovation with NetApp