Motor titans crowd aboard 'green' bandwagon
Hot air now figuring prominently in debate
Unsurprisingly, then, Ferrari has avoided electric and instead made a foray into biofuels. The new F430 Spider Biofuel model can run on either petrol or E85, a mix of 85 per cent ethanol and 15 per cent petrol.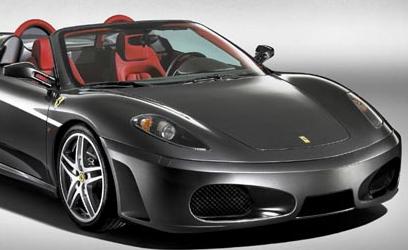 The F430 Spider Biofuel. Designed to fit aboard a bandwagon.
Ethanol as it now stands - made from corn in fossil-burning conversion plants - isn't any greener than grid electricity. However, it does have powerful US political lobbies behind it, and it ought to be feasible to make ethanol out of greener feedstocks using greener energy to do so one day.
What's nice about ethanol is that you don't have to sacrifice performance and you don't really have to do very much to a normal car to make it run on E85. So one might doubt the seriousness of Ferrari's green commitment here.
Biofuel and electric cars are fairly old hat on the alternative motoring beat, but there are other ideas. Developers in France, for instance, are partnering with Indian motor colossus Tata to try and get cars powered by compressed air onto the road.
This approach has obvious disadvantages, not least the fact that air inevitably heats up as it is compressed - and thus a lot of energy gets wasted. Indeed, the (hot) Air Car has been around for a long time without <cough> gaining any traction, but designer MDI still reckons it could go at 100mph and cover 125 miles on a single charge.
Like electric or hydrogen vehicles, compressed-air cars would be no more than a way of storing energy from somewhere else. In France, MDI's cars could use compressors powered from the country's mostly nuclear grid, and be truly low-CO2, but in most other countries this would lead to more hydrocarbons being burnt overall. A lot more, actually, as the electric powerplants turn fuel into 'leccy inefficiently, then the grid moves it to the cars inefficiently and finally the cars mostly use it inefficiently. Compared to burning the hydrocarbons on board, anyway.
Orthodox greens don't like nuclear, anyway; nor do they much care for ethanol vehicles, saying biomass power should be used in other ways; nor do they think a big expansion in electricity use is OK.
(There's no pleasing those chaps on this front, really, except perhaps by getting rid of your car.)
Despite all the headlines out of Detroit just now, green motoring even in the sense of low-carbon would seem a long way off. Green motoring in the Greenpeace sense of green may not even exist. ®
Sponsored: Minds Mastering Machines - Call for papers now open