Netgear EVA8000 network media player
Now with Matroska support
However, there is an area where you can't fault the EVA8000: codec support. With the beta firmware installed you can pretty much throw any file generally available at it and it'll be able to produce a picture. For a full rundown of what it can support, take a look at the table below. It shows the results of testing the player with the majority of formats you're currently likely to encounter. In the table, Y means the file played back without a hitch, P indicates that the EVA8000 could play the file but not without dropping frames, and N means that file wouldn't play at all.
EVA800 Codec Support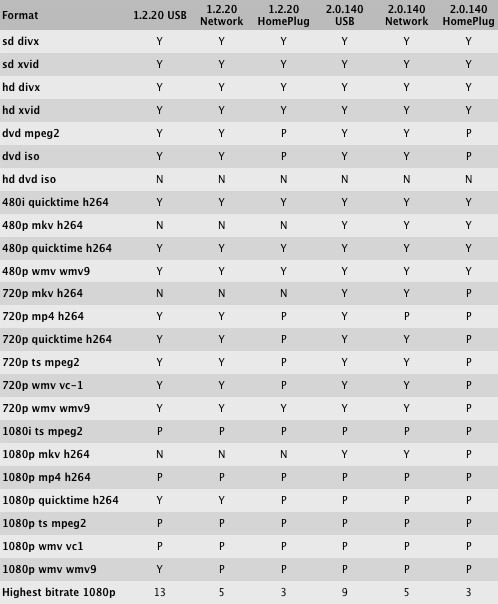 Highest bit-rate in Mb/s
Hardware wise, the EVA8000 has pretty much everything you'd want. There are HDMI and component-video ports for high-def output plus co-ax and optical digital audio out for surround sound. There's a network port and built-in wireless, plus two USB ports - one at the front and one at the back - for hooking up external storage.
The device will function happily as a standalone unit, although the set-up routine does try and push you to install the accompanying PC application to help it out. You'll also need to set up the PC side of things if you want to watch YouTube videos directly from the box - but watching squished, blocky, lo-res YouTube on a hi-def display is such a horrific experience you're unlikely to miss this functionality if you skip the PC install.
One irksome thing about the EVA8000 is the way it handles media files. It tries to index and organise everything for you, which would be acceptable if it wasn't such a time-consuming process. Scanning a 500GB network drive for content took over an hour.
Every time you add any addition files, you need to perform what Netgear terms a 'quick scan' - this can take anything up to 15 minutes. This could all be forgiven if you could simply browse the directory structure on attached drives manually, but even with folder browsing turned on you still can only see files that have been indexed.
Verdict
Netgear's EVA8000 really should be a fantastic media player, but it currently falls flat thanks to two issues. The major clanger is its lack of high bit-rate content support. There's a small chance that this could be rectified in future firmware updates, but it's unlikely to improve drastically as it's probably down to the amount of physical buffer memory available.
The second big problem is the way it handles file indexing, which is time-consuming. However, provided you keep its index up to date and don't throw any high bit-rate files at it, it's a great little player. Given Netgear's commitment so far to regularly-issued firmware updates, there's a chance the problems could be fixed in the future.
Sponsored: Minds Mastering Machines - Call for papers now open

Netgear EVA8000 network media player
Netgear's EVA8000 would be great if it weren't for its issues with high bit-rate content and annoying file handling...